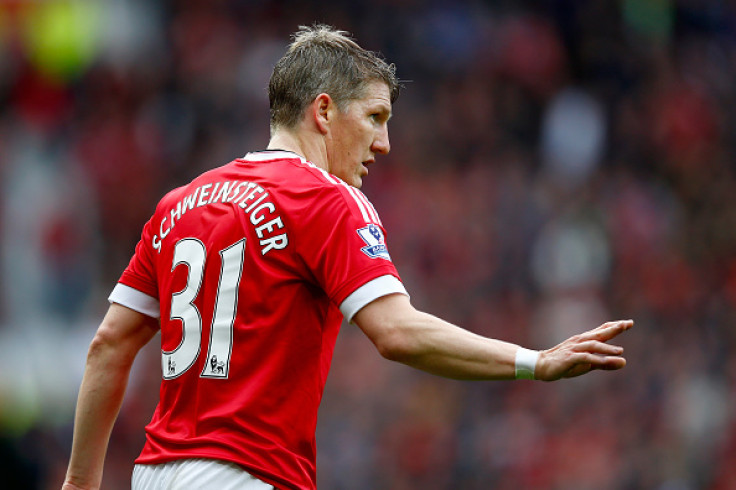 Bastian Schweinsteiger has conceded that he is disappointed at not having secured more than a point away against Leicester City, which would have taken them to the top of the league table. The Red Devils found themselves trailing after high-flying Jamie Vardy scored the opener for Leicester, breaking Ruud van Nistelrooy's record and becoming the first player in Premier League history to score goals in 11 consecutive games.
Schweinsteiger equalised for the Red Devils just before the halfway mark off a corner, but United failed to create further opportunities in the game, with their only other shot on target coming from the German again in the second half.
Leicester had dropped deep and were hitting United on the counter to good effect. The Foxes could have come away with full points from the fixture, but David de Gea's brilliance saved the day for the Red Devils.
United, like has been the trend in recent games, had the majority of the possession, but failed to exert themselves in the final third, with Wayne Rooney and Anthony Martial being tapped well by the Leicester defence. The England captain had to be pulled off after the break owing to an injury, and Memphis Depay, who came on as a substitute, failed to have the desired effect.
Schweinsteiger revealed that United found it difficult to break Leicester down once they were sitting deep and that they may have to rethink their strategy. They will have to come up with a way to unlock such defences, which are a growing trend in the Premier League of late.
"It's not a very good point," the midfielder told Manchester United's official website. "If you see the game and how much space we had with the ball, we have to create more chances and danger and we didn't do it so well. We come here as Manchester United and, if you want to win something, then you have to win the game.
"We tried [to win] but Leicester dropped in a lot and played with 11 players in their own half and it's never easy to play with this kind of tactics from the opponent. We should try and create more, I believe in it, but we have to improve. We have to live with that and move on," he said.