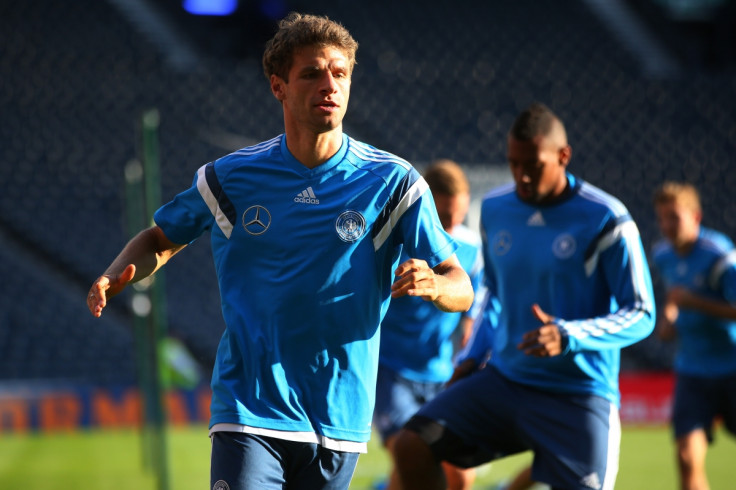 Bayern Munich chief executive Karl-Heinz Rummenigge has advised Manchester United to stop making "useless" bids for their star forward Thomas Muller. The German international was one of the key targets for Louis van Gaal earlier in the summer and they were ready to pay any amount to secure his services.
According to ESPN, United made a €85m (£62.7m, $95.1m) bid for the 26-year-old attacker. The 20-time English champions signed Bastian Schweinsteiger from Bayern and were looking to add his compatriot to their squad in the summer transfer window.
Muller's agent Giovanni Branchini revealed United wanted his client "at any cost". However, no deal took shape and Rummenigge has reaffirmed his stance that Bayern will not let their star player leave the Allianz Arena.
"I am not a banker. We are a football club. That is why we never even considered selling Thomas Muller," Rummenigge is quoted as saying by ESPN. "I told my colleagues at Manchester United: 'I cannot close down my email account, but you no longer need to send me anything. It is useless.' He's under contract for another four years. He'll stay -- no matter what is offered. There is no price I would even start considering it."
"Thomas is a special character, different to all others we have seen at this club before, on and off the pitch. There are players, who are technically better, and there are players who are faster, but there is no second Thomas Muller on this planet. He's extremely important for us. He embodies 'Mia San Mia' [Bayern's motto of 'We are who we are']."
The Bayern chief earlier revealed the Bundesliga champions received a huge bid for Muller, but refused to reveal the name of the club. United allowed Robin van Persie and Javier Hernandez to leave the club in the same transfer window, while they also decided against signing Radamel Falcao on a permanent deal.
Van Gaal replaced the trio by bringing in Anthony Martial, who arrived on deadline day from AS Monaco. The France international has had a good start to his United career, scoring four goals in all competitions.