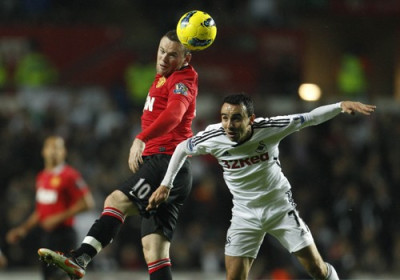 It was not a great evening for Sir Alex Ferguson's famed fighters. But Saturday's clash with Swansea City has proved that Manchester United are very much on the comeback trail after having managed to win the match, 1-0.
Rivals Manchester City have maintained the top slot in the Premier League with 34 points, followed by United at 29.
The decisive goal came from Mexican Javier Hernandez who struck just 11 minutes into the match. And the Reds have managed to defend their lead to the very last.
United's outing at the Liberty Stadium was marked more or less by a below-par show. The feeling was very much visible among the players. "We probably need to play better. When your rivals play before you, it's always tough," the Daily Start has quoted United's Welsh midfielder Ryan Giggs as saying.
United's star striker Wayne Rooney was seen in central midfield most of the time, helping out Ryan Giggs and Michael Carrick. Sir Alex has hailed Carrick: "Michael Carrick was magnificent today, it was a big, big performance from him."
Here are some exciting moments from the game: