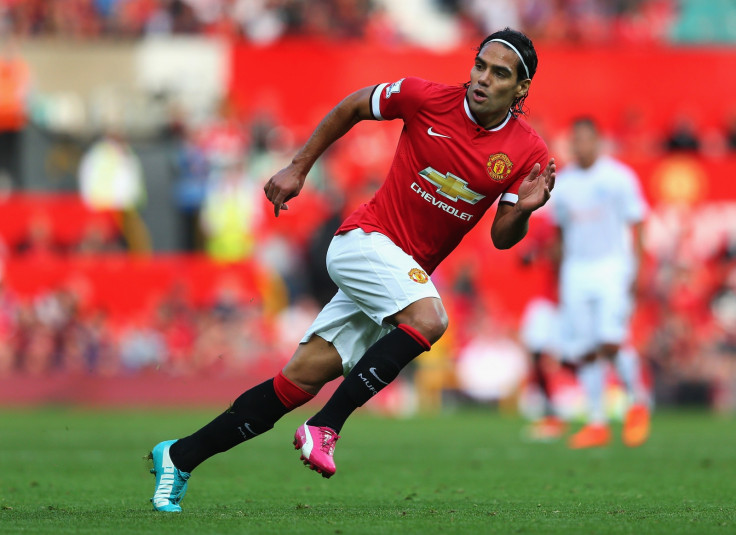 Manchester United manager Louis van Gaal says that although striker Radamel Falcao "did well" in his side's 2-0 victory over Queens Park Rangers, he should have taken his chances as "scoring goals is an important aspect of a striker".
With Robin van Persie out of action due to an injury, the Colombian international regained his place in van Gaal's starting line-up at Loftus Road one week after being left out of the squad in the 1-0 defeat to Southampton.
United beat Harry Redknapp's side 2-0 thanks to the second half goals from Marouane Fellaini and James Wilson.
However, despite being gifted a number of chances to score throughout the game, the former Monaco striker failed to add more goals to his tally.
Prior to the game, van Gaal urged the Colombian star to prove his worth to earn a permanent move to Old Trafford in the summer.
When asked about Falcao's performance post-match, van Gaal said:"In the first-half, I think we created one chance and I think Falcao has to score:"
"But in the second-half I think Falcao was also three times occupied with big chances and we scored two goals. It's not so important what I think because he wants to score goals and for me I have to judge how he has played and scoring goals is an important aspect of a striker, I know.
"But for me, also, it is very important, that, if he is an attacking point we can play further with the striker that we are coming in a third or fourth pace of our attack. And I think he did it well."
Speaking to MUTV, the United boss once again lavished praise his other striker, Wilson, who sealed three points for United in the final stages of the game after coming on from the bench.
"I'm very happy as he's been close in other games."
When asked of his other goalscorer today in Fellaini, he added: "He is a player who wants to do what you ask and that's always good for the team."