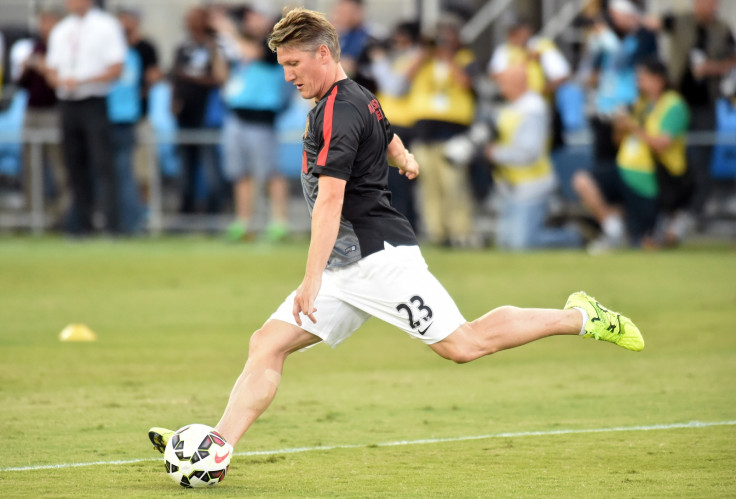 Manchester United manager Louis van Gaal was left disappointed with Bastian Schweinsteiger in his side's 3-1 win over San Jose Earthquakes, but is confident improving his fitness will address the problem.
United have won the first two games of their pre-season tour of the US – against Club America and the Earthquakes – in contests where the manager has opted to make wholesale changes to his starting XI at the interval.
On both occasions, former Bayern Munich stalwart Schweinsteiger entered the fray for the second half, with his side leading 2-1 on 21 July.
But despite Andreas Pereira extending his side's lead from a Jesse Lingard cross, Van Gaal was left wholly underwhelmed by the performance, singling out Schweinsteiger for the harshest of his criticism.
"He was also bad," Van Gaal said of the Germany international, United's official website reports. "There was one highlight, I think, and that was Pereira."
Van Gaal stressed, however, that a lack of football over the summer can explain the lacklustre performances and believes Schweinsteiger will improve once he has more than a week of training under his belt.
"But players can play badly, certainly when you have only three days or six days of training sessions in your legs, and you have to play 45 minutes.
"Everybody can think it is easy to step in but it is not easy. In the first match, he [Schweinsteiger] played very well and now he played badly. That is also a process, certainly when you have only had one week of training."
Goals from Juan Mata and new signing Memphis Depay gave United the lead at the Avaya Stadium. United's next friendly pits them against treble champions Barcelona on 25 July, a game that could see David de Gea return after missing the first two through injury.