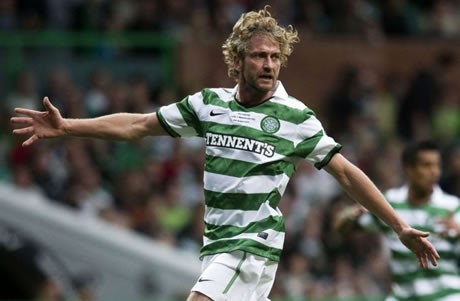 Scottish-born Hollywood actor Gerard Butler, a lifelong Celtic fan, pulled on the team's famous green-and-white hooped jersey as the sides played an entertaining game, which ended 5-2 to the Scottish side reports New.
Butler was just one of the celebrities who took to the football field for Celtic as the team took on Manchester United in a charity football match to help raise money to tackle famine in East Africa.
A Legends side featuring John Hartson and current boss Neil Lennon beat a star-studded Manchester United side 5-2, with Larsson hitting a hat-trick past comedy keeper Patrick Kielty to leave Roy Keane glum.
Champion boxer Ricky Hatton, boxer Steve Collins and The View band members Pete Reilly and Kyle Falconer also played in the game, while former Celtic boss Gordon Strachan's appearance for the Manchester United side added to the atmosphere.
Despite Butler, most famous for action hit 300 failing to score at all last night but still received a standing ovation when he left the field.
Other household names playing in the match included United legends Roy Keane, Ole Gunnar Solskjaer, Teddy Sheringham and Dwight Yorke, who were joined by Richard Ashcroft, Tinchy Strider and Angus Deayton.
The Hollywood star, 41, was reportedly pleased when Bertie Auld handed him a signed shirt before kick-off, said New.
Celtic manager Neil Lennon said before the match he was 'very excited' about the upcoming game, reports the Daily Mail.
"The history of our club was that it was started as a charitable organisation for Irish immigrants in Glasgow and we have carried that through year after year on donating to charity ever since".
The stadium rose to applaud John Kennedy as he was substituted after a short appearance on the field, it was an opportunity for the supporters to acclaim a player whose career was cut short through injury, reported the Herald Scotland.
The match was arranged to raise money for Oxfam's East Africa Appeal but it was also an opportunity for the supporters to acclaim a player whose career was cut short through injury.
"The majority of the proceeds will go to the East African famine and a portion of the gate receipts will go to a young player John Kennedy, who's now working at the club." added Lennon.
For highlights of the charity match see here: Celtic 5-2 Manchester United [Match Highlights]