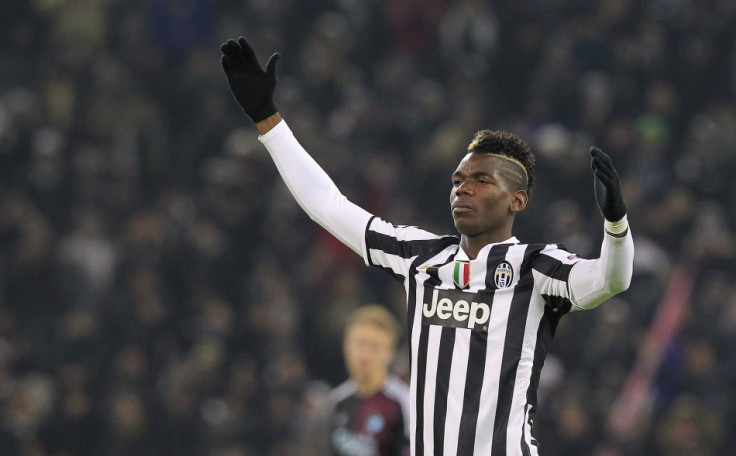 Manchester United, Chelsea and Manchester City are reportedly on high alert after Juventus midfielder Paul Pogba's agent admitted that the midfielder could leave the Serie A club.
The French international has become a key player for his club and country following his free transfer from Old Trafford to Turin in 2012.
Pogba has gone on to win back-to-back league titles with Juventus and has also become an integral part of the French national team, featuring in every match that France played at last summer's World Cup in Brazil.
United and Chelsea were heavily linked with moves for the French midfielder during the summer transfer window and reports claimed that Chelsea were preparing a £60m bid for the midfielder.
However, the midfielder decided to remain in Italy and also signed a new contract with the Serie A club keeping him there until the summer of 2019. But his agent Mino Raiola has confirmed that Pogba will leave Juventus before the end of his current deal.
Despite being happy at Juventus, his agent believes they will leave when the right opportunity arises in the future.
"Will he stay in Italy? No," Raiola said, as quoted on Manchester Evening News.
"It will be up to them [Juventus], we have renewed his contract, we're happy with Juventus but when the time is right to leave we'll take that opportunity."
"We'll see, I don't know when the right time will come," Pogba's agent explained.
Pogba has been in impressive form since his arrival in Turin, and since his emergence as one of the top midfielders in Europe, there has been constant speculation regarding his move away from the Serie A champions.
Apart from the above mentioned clubs, Real Madrid and Arsenal have also been keeping tabs on the 21-year-old midfielder.
Juventus general director Giuseppe Marotta has admitted that various top European clubs are monitoring his situation in Italy and revealed that there has also been contact from some of the clubs.
However, the Turin club's chief is reluctant to lose one his star players and insists that Juventus do not need to sell him.
"Every European club is watching him and been in contact. However, we want to have a strong team made up of champions. We have an important player in Pogba and we don't have a need to sell him," Marotta said.