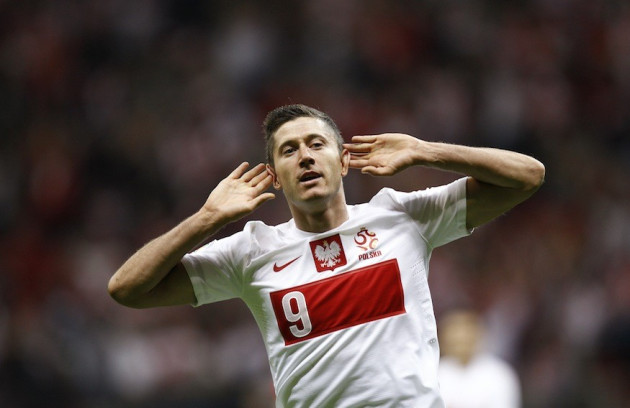 Robert Lewandowski has admitted he would love to play in the Premier League in the future, giving Manchester United and Chelsea fresh hope in their quest to land the Poland international before his contract with Borussia Dortmund expires next summer.
Lewandowski has made it clear that he wants to leave Dortmund when his contract with the Bundesliga outfit comes to an end in the summer of 2014 and it has been widely reported that he will sign for Pep Guardiola's Bayern Munich as a free agent.
Sir Alex Ferguson himself revealed that United were in the chase for Lewandowski at the beginning of the summer but were unsure of the situation surrounding his possible move to Bayern. Meanwhile with Chelsea failing in their pursuit of Wayne Rooney during the transfer window and with Jose Mourinho's strikers coming up short so far this season, the 25-year-old could be the perfect solution to a side still struggling to find its attacking flair.
And now Lewandowski has hinted for the first time that he would be open to a move to England, telling the Telegraph: "I will be able to sign a contract (with any club) in January, but I have never said that I will sign a contract with Bayern.
"It was a misunderstanding. It is true I had an opportunity to speak with Sir Alex Ferguson [last year], but we didn't mention the transfer.
"One day I would like to play in Premier League. It would be a great experience."
United failed to sign any of their big-name targets over the summer, eventually landing Marouane Fellaini in the dying hours of deadline day. To sign Lewandowski would certainly boost the fans, with the striker having a big hand in Dortmund's rise to the top of the Bundesliga in recent years as well as their progression to the Champions League final.
But they will face strong competition with Chelsea, who are certainly no strangers to sparking bidding wars in order to land their desired targets.