Manchester United chief Ed Woodward escapes grilling on Paul Pogba transfer controversy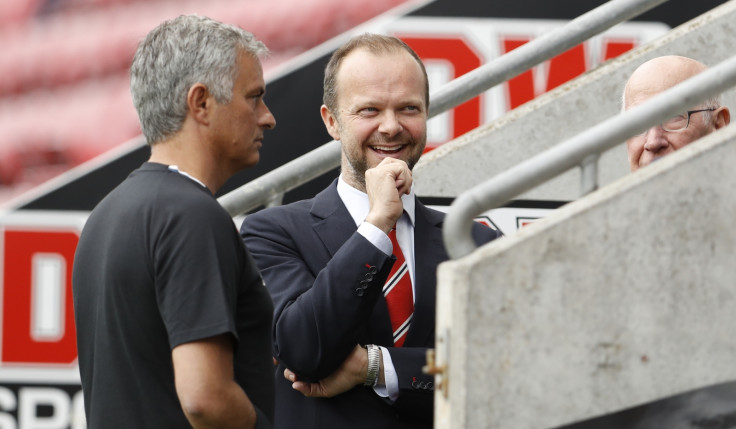 KEY POINTS
United's executive vice-chairman presided over third quarter conference call with investors.
Fifa announced last week they are investigating Pogba's £89m move from Juventus.
But not a single question on the story that dominated last week was taken.
Manchester United executive vice-chairman Ed Woodward dodged a grilling from club investors regarding the Fifa investigation into Paul Pogba's world record transfer last summer.
United held their third quarter conference call on Tuesday (16 May), during which the club revealed they are on course to post a record revenue of £570m by the end of the year – despite their absence from the Champions League this term.
But following Fifa's decision to open an investigation into Pogba's £89m transfer last week following allegations published in the book "Football Leaks: The Dirty Business of Football," many tuning into the call were expecting investors to raise questions over the story that dominated the club's news agenda early last week.
The call passed without incident, however, with questions put forward centring on the club's sponsorship deal with Adidas, the club's upcoming tour of the United States and the development of the club's new MUTV app.
Last week, a Fifa spokesman told PA the governing body is investigating last summer's transfer amid allegations agent Mino Raiola will earn £41m from the deal that saw the Frenchman leave Juventus to return to Old Trafford.
United have insisted Fifa is in possession of all the relative documents relating to last August's transfer. "We don't comment on contracts; Fifa have had the documents since the transfer in August," United said in a statement.
Surprisingly, not a single question on the matter was put towards Woodward and the club's chief financial officer Cliff Baty. Both were quizzed on United's £750m sponsorship deal with German sportswear giant Adidas, with Woodward confirming the club will suffer a 30% reduction in payments should they miss out on Champions League qualification – which now realistically rests on the club winning the Europa League.
The club stand to lose out on £21m if they fail to qualify, although that reduction is to be spread out over the remainder of the 10-year deal which was signed in 2014.
© Copyright IBTimes 2023. All rights reserved.