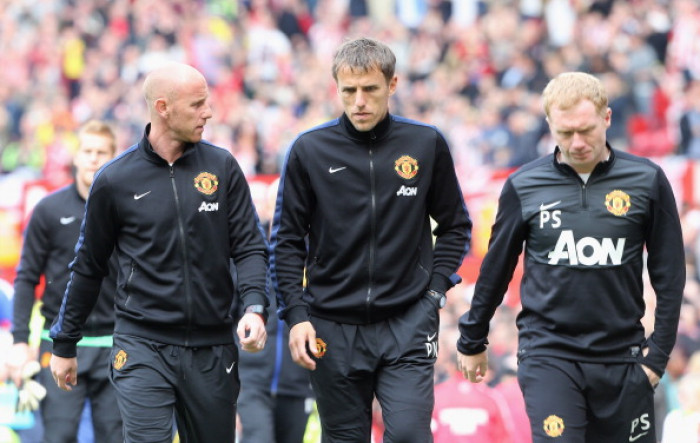 Louis Van Gaal will announce next week if the Class of '92 feature in his plans for Manchester United.
The Dutchman will start the task of rebuilding United once he flies back from guiding the Netherlands in their third place playoff against World Cup hosts Brazil on Saturday.
One of the first tasks in his in-tray is whether he will retain Phil Neville, Paul Scholes and Nicky Butt within the club's hierarchy as he looks to lay the foundations of his new regime.
While it is thought Butt will return to his role overseeing United's under-21s and managing the under-19 youth team, the futures of Neville ansd Scholes remains unclear.
Butt was promoted to assistant by Ryan Giggs during the Welshman's brief tenure as interim manager while former United defender Neville, who returned to the club as a coach under David Moyes, survived the clearout in the wake of the manager's sacking in April.
Butt, who made 269 apperances for United between 1992 and 2004, has been helping with United's pre-season preparations but awaits confirmation of Van Gaal's intentions.
"I don't know what is happening yet really. It is a bit up in the air. The manager is away at the World Cup obviously and when he comes back it will be clarified," Butt told the Manchester Evening News.
"They want me to stay and it is all about finalising the role I will have.
"We will go from there. I haven't spoken to Louis van Gaal. I have spoken to Ryan Giggs and Ed Woodward (executive vice chairman) and they have made it clear they want me to stay but we need to find a role they want me to do and that has to be okayed by the manager."
The former midfielder added there wasn't a role he would turn down at his boyhood club but said he does not want to be "just floating about".