Manchester United are set to renew their interest in Daley Blind after Patrice Evra secured a £2 million move to Juventus.
Evra made the switch from Old Trafford to the Italian champions despite United exercising a clause in the defender's contract that entitled him to a one-year extension.
The Turin club has reportedly put a two-year deal on the table worth £55,000 a week, with the 33-year-old's family said to prefer a move away from Manchester.
It leaves the Reds short at left-back after Alexander Buttner was sold to Dynamo Moscow for an initial fee of £4.4 million last month, with £27 million signing Luke Shaw the club's only recognised left-back.
Evra's decision to call time on his eight-year United career has now caused Louis van Gaal to turn his attention to compatriot Blind, who has started every World Cup match this summer for the Netherlands, lending two assists.
The Ajax defender had quashed rumours he was Old Trafford-bound following his nation's thrilling 5-1 victory over Spain in their opening group game, a contest in which he memorably provided the cross-field ball for Robin van Persie's flying header.
"All the attention is a very big thing now. But I try not to think about it too much and will stay with my feet on the ground. The link with Manchester United is easily made because Robin is playing there and Van Gaal takes over next season," Goal.com quoted Blind as saying.
Van Gaal inherits a defence bereft of experience following the departure of stalwarts Nemanja Vidic and Rio Ferdinand, and Evra's desire to join the Serie A club is likely to cause futher consternation for United's new manager.
Patrice Evra - profile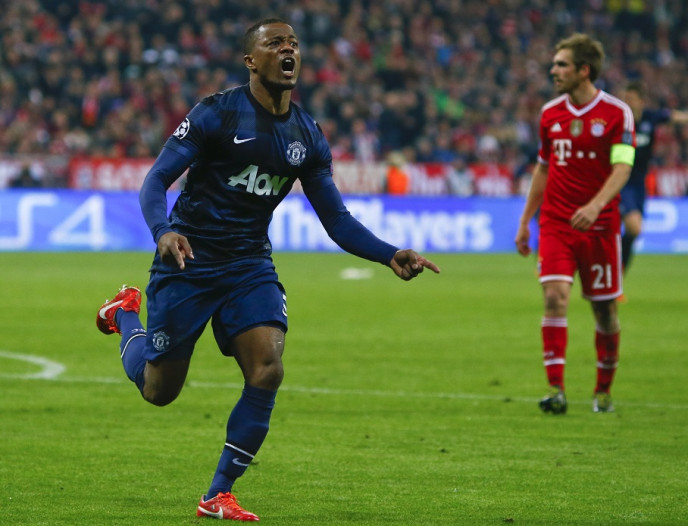 Age: 33
Nationality: French
Clubs: Marsala, Monza, Nice, AS Monaco, Manchester United
United transfer: £5.5 million from Monaco in January 2006
United debut: A disastrous 3–1 away defeat to Manchester City. Evra was substituted out at half-time
Appearances: 273 (seven goals)
Honours: Premier League (5): 2006–07, 2007–08, 2008–09, 2010–11, 2012–13; League Cup (3): 2005–06, 2008–09, 2009–10; Champions League (1): 2007–08; FIFA Club World Cup (1): 2008; FA Community Shield (5): 2007, 2008, 2010, 2011, 2013; Coupe de la Ligue (1): 2002–03