Manchester United defender Jonny Evans denies spitting at apologetic Newcastle striker Papiss Cisse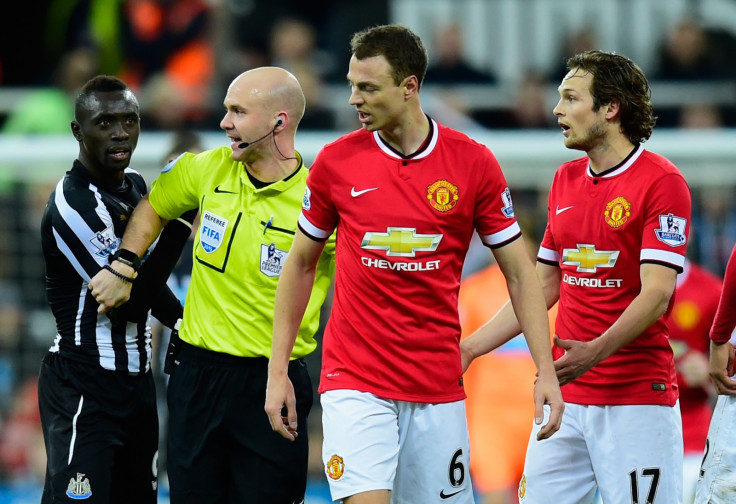 Newcastle United striker Papiss Cisse has apologised for spitting at Manchester United defender Jonny Evans, who has denied any involvement in the exchange.
Cisse says he "reacted to something I found very unpleasant" but his Northern Irish counterpart has refused to take any blame for the episode, despite television cameras capturing the confrontation during United's 1-0 win at St James's Park.
The Football Association is investigating the incident retrospectively after it was missed by referee Anthony Taylor and both players could be handed six-game bans, while Cisse could miss seven matches having already served a punishment for violent conduct earlier in the campaign.
"I have apologise to make to a lot of people today," the Newcastle forward said. "Firstly to my teammates and to our supporters, secondly to Jonny Evans, and thirdly to every football fan who saw the incident between myself and Jonny.
"I reacted to something I found very unpleasant. Sometimes it is hard not to react, particularly in the heat of the moment. I have always tried hard to be a positive role model, especially for our young fans, and yesterday I let you down.
"I hope children out there playing football for their clubs and schools this weekend will know better than to retaliate when they are angry. Perhaps when they see the problem it now causes me and my team they will be able to learn from my mistake, not copy it."
While Cisse risks missing a significant chunk of Newcastle's remaining games, Evans could miss the FA Cup quarter-final against Arsenal on 9 March as well as five more games in United's pursuit of a Champions League place.
However, the 27-year-old has risked further damage to his reputation within the game by denying the accusations that he spat at Cisse, claiming to be "shocked" at the media's reaction to the incident.
"Having woken up this morning I am shocked to have seen the media coverage from last night's match. I would like to make it clear that I did not spit at Papiss Cisse," the centre-back maintained.
"I was totally unaware of any spitting incident and had assumed that the issue at the time was with the challenge and his attempted retaliation to the tackle from the floor. During the game Papiss Cisse and I spoke about the incident and it is clear by my reaction in the television footage that I was totally surprised by any suggestion of spitting.
"It is not in my character or in my nature to spit at anybody nor is it something I have ever done or would ever do. It is certainly not something that I did last night."
© Copyright IBTimes 2023. All rights reserved.