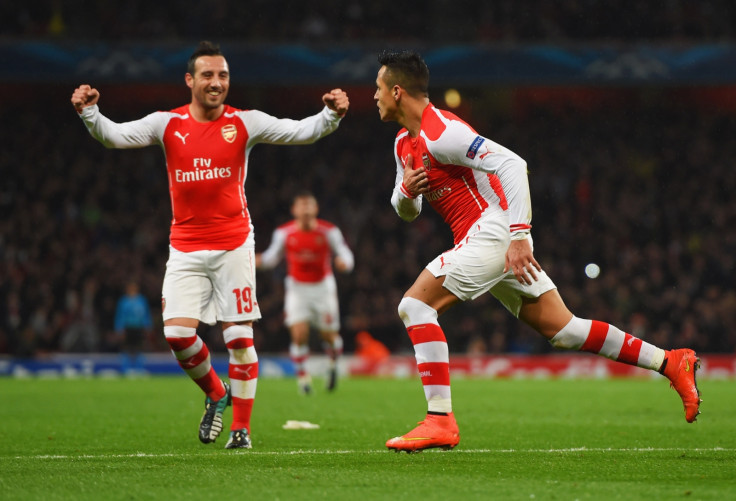 Arsenal right-back Hector Bellerin believes teammates Alexis Sanchez and Olivier Giroud are back to their best ahead of the FA Cup quarter-final game against Manchester United on Monday 9 March.
The Chilean international has struggled to replicate his impressive first-half of the campaign since New Year, while Giroud has lately received criticism for his disappointing performance during the Champions League 3-1 defeat against Monaco.
However, the duo recovered their best form on Wednesday (4 March) to lead Arsene Wenger's side to a 2-1 victory over QPR in the London derby, scoring one goal each and keeping the Gunners in the third place of the Premier League.
It was Sanchez's first goal in the last seven games, and Giroud's second in two games after the French international already scored during the weekend victory over Everton to put behind him the Monaco nightmare.
Bellerin believes his goals and the win at Loftus Road let Arsenal to go to Old Trafford full of confidence in order to secure the qualification for the FA Cup semi-final.
"We now have two really tough games, against Manchester United and Monaco. The next coming weeks are going to be very important and winning QPR was crucial for our confidence," the Spaniard said after the victory at Loftus road.
"We are going to face it in the best possible way. We're eager to go to Old Trafford and to make a good game there. We don't have concrete targets for the last part of the season but getting the maximum we can."
"Forwards always have different runs. Alexis was lately not scoring many goals but we know what a great player he is and every time he has an opportunity he takes it. We are very happy for his performance," Bellerin said.
Meanwhile, Bellerin has praised how Giroud recovered from his tough game at Monaco with two goals in two games, and expects him to keep the momentum at Old Trafford.
"It is really good because he had a tough time against Monaco and I think the character he has shown - he is still performing the way he was - scoring goals. He knows he has the backing of all the players and the fans. We are all really happy for him," Bellerin said.
"Everyone saw that. He knows it. But he has made himself big, he knows that the team are behind him and helping him and he is getting the goals the way he did today. It is really important for the team because he is a really important player because he offers us a lot. We are really happy for him to get the goals. He takes it on the chin, he works hard. And in games like this, he is a really good asset for us especially when he gets a goal for us and we are happy for him because he deserves it. "
"Since Monaco, he has got back out there and scored twice. That is always important for a striker. They weren't easy goals so we are just really happy for him because he is a really good lad and a really good player and we only want the best for him."