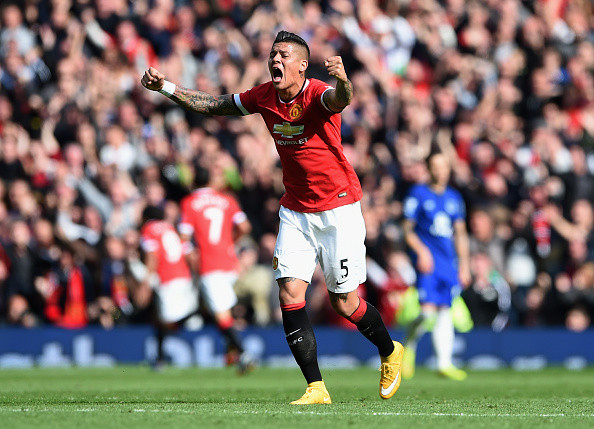 Manchester United defender Marcos Rojo has outlined his desire to rejoin Estudiantes de La Plata once his current contract expires in June 2019. The 26-year-old rose through the youth ranks at the Estadio Unico, featuring for the Argentine Primera Division club on a regular basis prior to an ill-fated move to Spartak Moscow.
Rojo played just one season in the Russian capital before joining Sporting CP and his subsequent form in Portugal earned a £16m switch to Old Trafford back in August 2014. He made 22 Premier League appearances during his maiden campaign under Louis van Gaal and returned to action from a three-month absence in February after undergoing surgery to correct a dislocated left shoulder suffered during a heavy fall in training.
"I miss the club, my family and my friends," the player told TyCSports, as quoted by The Mail, about a possible future homecoming. "I want to return to Estudiantes once I finish my contract in England."
Rojo is not the only English-based Argentina international who has recently expressed his wish to return to South America. Earlier this month, Manchester City striker Sergio Aguero revealed that he has his heart set on a reunion with Independiente after the 2018 World Cup.
"In the last few months a lot of things have been said about a new contract, but I didn't pay any attention," he told radio station El Rojo En La Uno. "It's clear to me that when my contract ends, after the World Cup, I'm going to Independiente.
"My family knows it, I will return as soon as my Manchester City contract finishes in 2018. City are aware of it. They know that I want to go back to Argentina."
Both Rojo and Aguero started for Argentina on 24 March as Gerardo Martino's side overturned a 1-0 deficit against Chile courtesy of goals from Paris Saint-Germain midfielder Angel di Maria and River Plate's Gabriel Mercado at the Estadio Nacional Julio Martinez Pradanos in Santiago. The Albiceleste have won two of their five 2018 World Cup qualifiers to date and host Bolivia in Cordoba later this week. They currently sit fifth in the Conmebol standings, behind rivals Brazil and Paraguay only by virtue of an inferior goal difference.