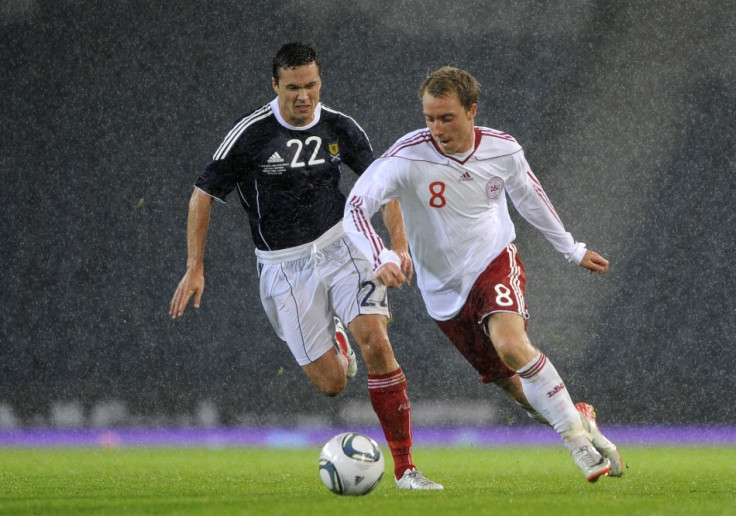 Manchester United have been dealt a blow in their pursuit of Danish midfielder Christian Eriksen, with the 19-year-old revealing he is considering a move to Spain.
At such a young age, Eriksen is already attracting a great deal of attention from clubs around Europe - Barcelona are said to be chasing the starlet, while Chelsea and Manchester City have also registered their interest.
But United were thought to be front runners in the case for Eriksen, with a January move looking likely for the English giants. Cross-town rivals City have admitted they admire the youngster, but he is adamant that a move to Spain would better suit his style of play.
"Yes, [Spain] appeals more to me. The playing style and weather is more attractive," Eriksen told Ekstra Bladet.
"I believe I would fit better in Spain. But maybe I will be a big bodybuilder suitable for Premier League in one or two years. It's hard to know."
Sir Alex Ferguson plays his cards very close to his hand in terms of transfers, and United are renowned for refusing to enter into bidding wars over players and shoring up their targets early on before deadline day.
And if Eriksen prefers a move to Spain over England, the manager will no doubt turn his attentions to other players as United look to bolster their midfield to compete with current title leaders City.
Eriksen moved to the Ajax youth academy in 2008, and was promoted into the senior side in 2010. In 59 appearances, the midfielder has scored 11 goals, and has already accumulated 20 caps and two goals for the Denmark international side.
At the beginning of the year, when Eriksen played in a friendly against England, despite Denmark losing 2-1 he was named man of the match, and received massive praise from the likes of Frank Lampard and Rio Ferdinand.
Clubs have been on alert to Eriksen's ability since, and while no bids were able to match Ajax's £20 million price tag for their prized possession in the last window, January looks set to be a busy month for the wonderkid.
Eriksen said last week that he was particularly flattered by interest from Barcelona, but the club may not be willing to meet such a high price, as he is still unproven in a top standard league.