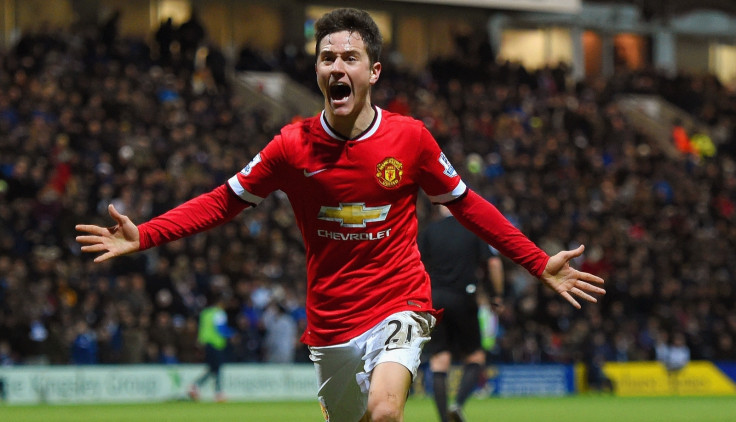 Many sportspeople, young and old, will tell you they know when the end is nigh. Those within elite sport are perceptive enough to know the writing is on the wall long before they are forced to leave a club, or hang up their boots altogether.
You wonder then at what stage it dawned on Ander Herrera, the creative Manchester United midfielder who joined the club from Athletic Bilbao last summer, that his time at Old Trafford is coming to a premature and regrettable end. The evidence that his days at United are numbered have been as overwhelming as they have been regular.
Though Herrera is of course in his first season in English football, a run of just six Premier League starting appearances is an inordinately low amount for a player who requires minutes to adapt to the rigours of a new division.
Herrera's start in the FA Cup fifth round win over Preston North End, which saw the 25-year-old net the equaliser as Louis van Gaal's side edged into a quarter-final meeting with Arsenal, was just his fourth in the last five months. In the league, Herrera has begun one match since October.
In a United squad which has been blessed with a deluge of midfield players, Herrera's continued omission could be understandable, even justifiable. Yet the 20-time English champions have been injury ravaged this term.
Michael Carrick and Daley Blind have both suffered serious injuries, while Juan Mata and Marouane Fellaini have been out of favour. Even though Herrera was out for a handful of weeks with a fractured rib, the Spaniard's lack of involvement does not add up.
Herrera's plight has been accentuated by Van Gaal's decision to play Wayne Rooney out of position in a holding role during Michael Carrick's injury, rather than entrusting the summer signing with a position at the base of the United midfield.
All those factors add up to a feeling that Van Gaal has made Herrera both surplus to requirements and a scapegoat for United's slow build-up play which has been indicative of their uncertain performances through parts of the campaign.
With FA Cup visits to Football League opposition representing Herrera's only starts in 2015 there is a growing feeling that the player is being prepared to be offloaded during the upcoming off-season, less than two years after he was targeted by David Moyes as the key to a revolution at United.
The nail in the coffin for Herrera's career came earlier this week when Van Gaal claimed he would look to sign a creative midfielder in the summer transfer window, thereby replacing the Spaniard and throwing him on the Stretford End scrapheap.
Van Gaal spent most of the summer and January window ridding the club of its dead wood. Bebe, Javier Hernandez, Anderson, Wilfried Zaha and Darren Fletcher all departed in one way or another. Who knew that the continuation of that fire sale would include one of the club's newest recruits. RIP Ander Herrera – 2013-2014.