Sir Alex Ferguson has labelled Rafa Benitez 'lucky', with the new Chelsea manager coming in just in time to take the Blues to World Club Cup glory in Japan.
Benitez has come in as a replacement for yet another sacked Chelsea manager, with Roman Abramovich hoping that the former Liverpool man can deliver immediate results like Roberto Di Matteo did for the side last season.
Ferguson and Benitez have never been the best of friends, with the pair enjoying a bitter rivalry when the latter was at Liverpool. And as he gets settled in at Stamford Bridge, Ferguson says he's been very lucky with the achievements he could put on his CV thus far.
He told the United website: "Of course, Rafa Benitez is very lucky because on his CV in two weeks' time he could have two world club titles to his name [he won one with Inter] and had nothing to do with the teams.
"Jose Mourinho won the Treble at Inter; Rafa took over and they won the world title without having to do anything.
"He had nothing to do with the construction of the teams - that's why I really feel disappointment for Roberto - he could have an FA Cup, Champions League and Club World Cup on his CV. It's a pity for him."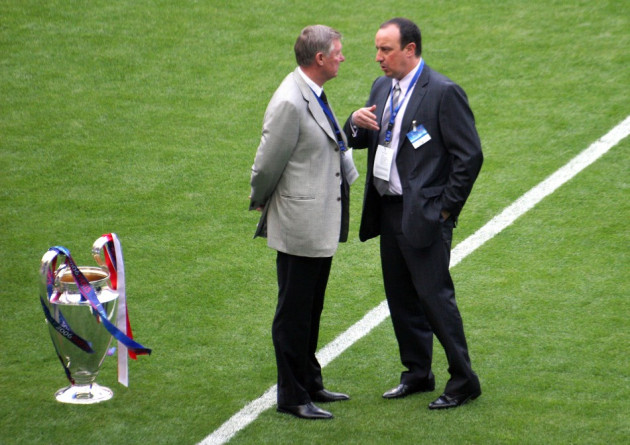 Despite the managerial changeover often being an unsettling one for a team, Ferguson still believes that Chelsea are a big threat in the title race. And particularly if they go out of the Champions League in the group stages, they will be able to concentrate solely on winning a fourth Premier League title trophy under Abramovich.
"Certainly a few weeks ago we were thinking it looked like a three-horse race," he explained. "I don't think that is out of the question either because there are only a few points between the three teams anyway.
"Chelsea have got a big squad of players. They have a lot of experience and have brought in a couple of young players - Oscar and Hazard. There is a bit of youth throughout their team now, there is a sprinkling of youth coming through, a good blend of experience and young players, so there is no way you can possibly dismiss Chelsea."
Ferguson also insisted he never believed that Mark Clattenburg was guilty of using racial language against John Obi Mikel, after the FA announced yesterday that they wouldn't pursue the claims made by the club.
"I did not believe it anyway," he said. "The unfortunate thing for Mark is that he has had to carry that stain for the last few weeks.
"Everyone in the game is pleased for him now - apart from Chelsea."