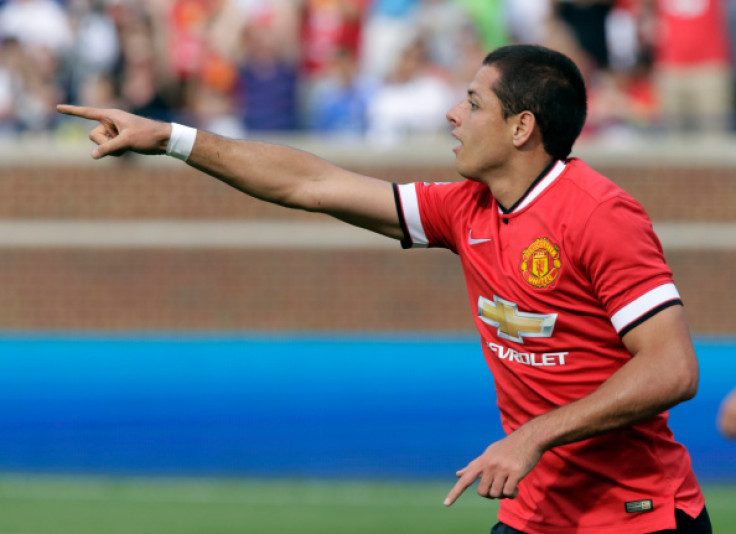 Manchester United striker Javier Hernandez is reportedly set to stay at Old Trafford beyond this summer, as the club have no plans to sell him despite sending him on loan last season, according to the Daily Mail.
Louis van Gaal had indicated last season that the Mexican forward had no future at the club, but would now count on him to provide backup to Wayne Rooney, who is the main striker at the club.
Hernandez spent the entire 2014/15 season on loan at Real Madrid, and following a frustrating first-half of the campaign, the forward did get his chance in the latter stages of the season. He showed good goal scoring form, notching up seven goals and as many assists in 23 appearances and even scored the winner against arch rivals Atletico Madrid in the second leg of the Champions League quarter-finals.
The Mexican forward was expected to be offloaded this summer with Tottenham and West Ham United showing interest in signing the forward. But the departure of Radamel Falcao and Robin van Persie, has given the striker new lease of life at the club, and is set to stay to provide backup as Rooney is the only recognised striker in the senior squad.
Marouane Fellaini, on the other hand, could reportedly leave the club after falling down the pecking order following the arrival of Morgan Schneiderlin and Bastian Schweinsteiger, according to talkSPORT.
The report claims that Turkish giants Fenerbahce and Galatasaray have shown interest in signing the midfielder, who will find it difficult to reclaim his place at the heart of United's midfield.
The Belgian international is currently under suspension and will not be available until 30 August, which could further push him down the midfield pecking order.
Fenerbahce and Galatasaray are hoping to tempt him into considering a move, with the former being favourites after having already signed his ex-teammates Van Persie and Nani earlier in the summer.