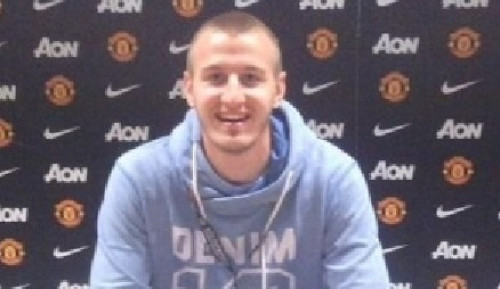 Manchester United have finalised a deal for Serbian goalkeeper Vanja Milinkovic.
United announced back in May that they had secured the 17-year-old's services but they have since been locked in negotiations with Serbian club FK Vojvodina over his immediate future.
However, the club's president Zoran Scepanovic revealed that talks have been completed and Milinkovic's move to Old Trafford is complete.
He will remain at Vojvodina for another year under close scrutiny from United coaches before joining his new teammates in Manchester.
"After lengthy talks that have taken place over the past month, we have finally completed negotiations on Monday and we can officially inform the public that our young and promising goalkeeper has joined Manchester United," said Scepanovic.
"He will remain in Vojvodina for the next year, where he will be under the supervision of our experts and coaches from the English football giants, while continuing to train and perform in the jersey of his home club. This is an opportunity to thank everyone who participated in the realisation of this transfer. Can I point out Manchester United's very correct attitude."
The 6ft 7in shot-stopper turned 17 in February and is an Under-19 international for his country, along with his brother Sergej, and made six appearances for Serbia in the qualifying phase of the Uefa Under-17 Championship.
United have used three goalkeepers on their pre-season tour of America - David De Gea, Anders Lindegaard and Ben Amos - as new manager Louis van Gaal looked to juggle around his first XI.
Danish keeper Lindegaard had reportedly grown frustrated with life as Spanish international De Gea's understudy, but the number two quashed transfer rumours earlier this year when he told Sky Sports: "I have to try and be objective, and raise myself up above just myself and see it from the club's perspective and how much pressure we have been under. Then it is easier for me to understand why things are the way they are.
"For me it is all about being a happy human being. I am that now at Manchester United. It is my club since I was a small kid. This is my dream."