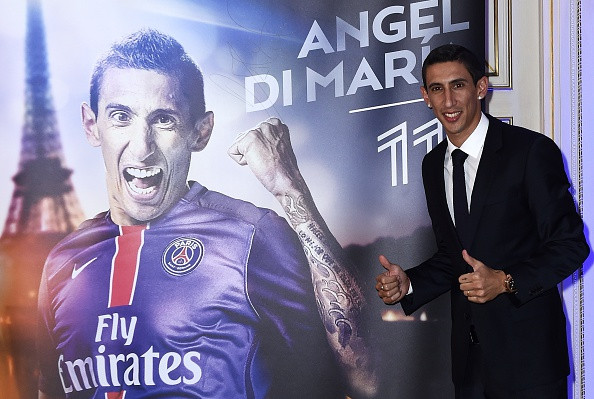 Angel di Maria has expressed his happiness after scoring his first goal for Paris Saint-Germain during the Champions League opener against Malmo on Tuesday night (15 September). The Argentinian forward is ready to put his failure at Manchester United behind him and hopes to rediscover his best form with the Ligue 1 giants, saying it will be "easy" due to the quality of his new teammates.
Di Maria moved to Old Trafford in the summer of 2014, after being arguably Real Madrid's best player – ahead of the likes of Cristiano Ronaldo and Gareth Bale – in their run to the Champions League crown. However, despite costing a record £59.7m ($93m) fee, the former Benfica winger struggled in the Premier League, being sold to the Ligue 1 side this summer for a loss.
Di Maria has got off to a promising start in Paris. He provided the assist for Ezequiel Lavezzi's goal against Monaco last month and opened his goal-scoring account with a sublime left foot strike to help his side secure a 2-0 victory over Malmo.
The Argentinian said after the game that it is easy to play with the likes of Zlatan Ibrahimovic and Edinson Cavani, and he hopes to continue his run of form this season.
"I am very happy. We enjoyed a great game because we have worked well. It's always important to start the Champions League in a good way," he said to Bein Sport. "It's easy when you are playing alongside great players. It makes other teams afraid. The quality of players at PSG is impressive and we have to make the most of it."
PSG manager Lauren Blanc, meanwhile, praised Di Maria's performance after the game, expressing confidence that he can get the best out of him. "He's a guy who brings us great passing ability but I think he can score a lot too. He said he hasn't often scored too many goals in a season but he's capable of it," he said. "Having another player like that in our squad obviously strengthens its quality."