Manchester United full-back Luke Shaw set Europa League final comeback target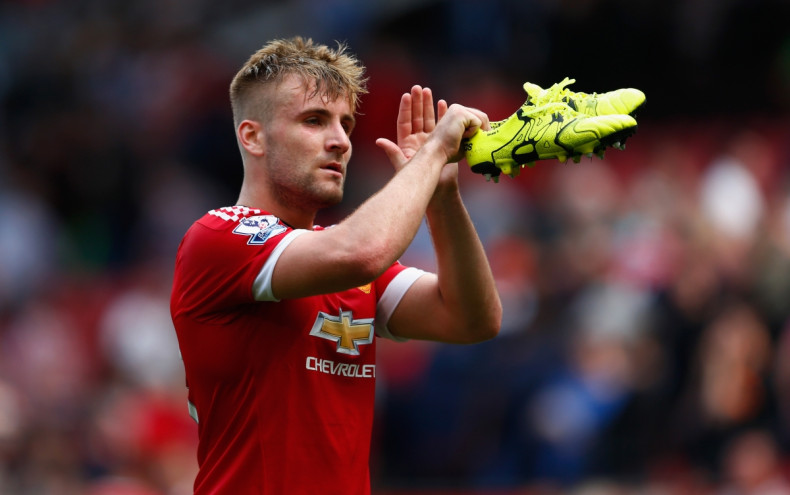 Manchester United defender Luke Shaw has been promised an appearance in the Europa League final in May in an attempt to inspire him to return from a double broken leg before the end of the season. The England international suffered the blow in September's defeat to PSV Eindhoven and though he has made strides in his recovery there is not yet any news regarding his imminent return.
After an injury ravaged first season at Old Trafford, Shaw started the first eight games of the season in all competitions including in the Champions League opener in Eindhoven. But the harrowing injury which saw him undergo surgery has temporarily halted his career and called into question his fitness for the summer's European Championships.
Reports have suggested Shaw could return to the United team in March for the final two months of the season, but no confirmation has been forthcoming from the club or manager Louis van Gaal. The Dutch coach has however set the 20-year-old the target of being fit for the Europa League final on 18 May in Basel after being included in the club's European squad.
"He can play the final," said Van Gaal, who's United side start their campaign against Midtjylland on Thursday [18 February], according to the Manchester Evening News. "I have said that to him. It is a goal that he has to live for. It is possible. In my opinion, it is not impossible. It gives him the spirit (to come back). He is doing well."
Injuries have dominated United's second campaign under Van Gaal, with five players missing for the trip to Chelsea. Shaw is joined by Bastian Schweinsteiger, Phil Jones, Marcos Rojo and Antonio Valencia on the treatment table and Van Gaal says the constant absences have damaged his side's campaign.
"I don't want to hide behind injuries, but when you have five or six injuries in the same position, you cannot hide, and you have to solve problems you cannot solve," he added. "We had that period in December. That could have cost us. But players are coming back now and I can continue how we started the season.
"We were first in the Premier League in that period (in November) but when you are in a row of four defeats you cannot say that. But I have always had that feeling. You have to analyse the circumstances.
"I cannot prevent contact injuries and we were very unlucky with contact injuries. When you don't have full backs any more that is a big problem because full backs are important in our system because they are also always in attack. I play Young as right back because he is an attacking full back."