Manchester United furious after 'urban climbers' scale Old Trafford roof before Carrick testimonial
Premier League club say group's actions were "stupid and irresponsible, especially at such a sensitive time".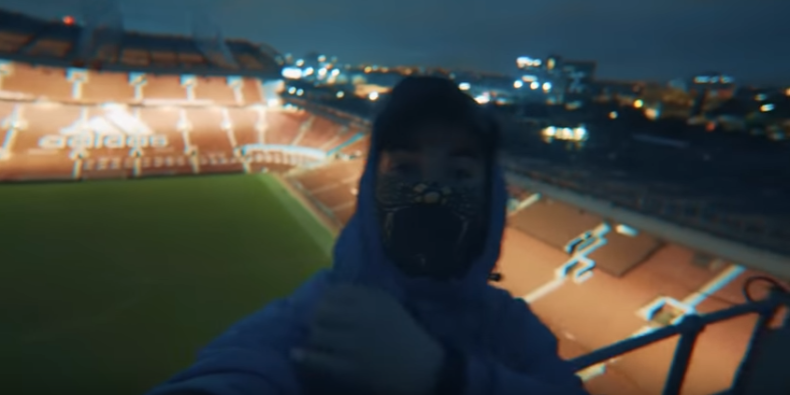 Manchester United have strongly condemned the "stupid and irresponsible" actions of an 'urban exploration' climbing group who scaled the heights of Old Trafford last Sunday morning (4 June) hours before Michael Carrick's star-studded testimonial match.
A video released via Youtube shows the group paying their respect to the victims of the recent Manchester Arena terror attack in St Ann's Square before failing in their quest to get to the top of the Hilton Hotel due to a locked door. They then make their way to another plush city hotel - believed to be the Mercure in Piccadilly - and walk along an outer wall before being confronted by police and revealing to camera their intention to visit Old Trafford.
Once they arrive at the Theatre of Dreams, the group climb up some electrical cable and walk around the edge of the roof at the Stretford End before eventually climbing down and running across the pitch.
They exit through a door and then sprint away from the stadium, having seemingly been spotted by security. The video ends with one man asking followers to like, share and subscribe the video while sat in the dugout.
Responding to the incident in a statement released on Saturday, Manchester United criticised the group for a stunt which came at a sensitive time for security. They also praised police for their quick response at a time of stretched resources. The match was followed later on that day by the inspirational One Love Manchester concert held at the nearby Emirates Old Trafford cricket ground.
"In the early hours of last Sunday morning, stadium security chased four urban climbers off the premises at Old Trafford after they had gained access to the stadium illegally, by scaling the outer works area of the stadium and gaining access to the roof," they said. "Such efforts appear to be motivated by a trend for similar actions on social media and followed a successful attempt to climb to the roof of a city centre hotel earlier that day.
"Their stupid and irresponsible actions, especially at such a sensitive time, put last Sunday's game at risk and occupied both club staff and, more importantly, police officers in hours of work to make sure that the stadium was safe to stage the match. The response of the police was outstanding. With over 130,000 people coming into the Old Trafford area on Sunday, the last thing they needed was to have their time wasted in this way. But as ever, they conducted a thorough search of the stadium to confirm it was safe to hold the match.
"The security of fans attending games at Old Trafford is our highest priority and we work constantly with all local authorities and security contractors and advisors to keep all security measures, systems and protocols under constant review. The fact that the necessary checks were carried out in time for the game to go ahead is testament to those close relationships."
The incident comes six months after student pranksters Uosof Ahmadi and Kyle Morgan-Williams embarrassed United by sneaking away from a stadium and museum tour undetected and hiding overnight in the toilets ahead of a high-profile Premier League meeting with Arsenal.
In May 2016, a final day clash with Bournemouth was abandoned and Old Trafford evacuated after a suspect package was found in the toilets of the stadium's north west quadrant. A controlled explosion was carried out and it later transpired that it was a dummy device accidentally left behind after being used in a training exercise run by a private security company.