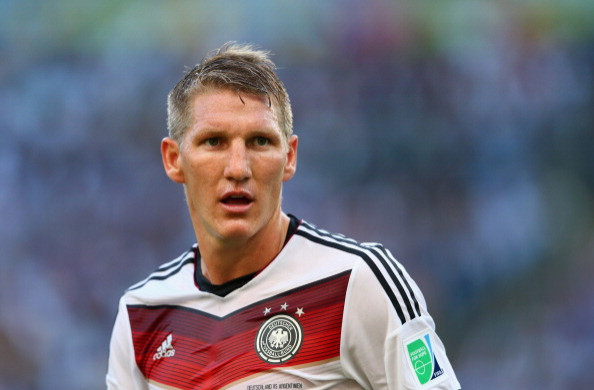 Manchester United midfielder Bastian Schweinsteiger has sent an open letter to German fans to thank them for their full support during their stuttering qualification path to the European Championship finals and insisting they're still targeting the trophy in France next summer.
Joachim Löw's side began qualification on a high following their World Cup 2014 victory, but failed to seal their spot for France 2016 until a hard-fought win over Georgia in their final qualifying match.
Germany finished Group D on top, ahead of Poland, Republic of Ireland and Scotland with 22 points out of 30, but struggled to perform at their best in many games – losing 2-0 against the Polish earlier in their qualification while failing to beat Martin O'Neill's Ireland both home and away.
Schweinsteiger, nevertheless, is happy to have got the job done with an unconvincing 2-1 win over Georgia on Sunday (11 October). "Game won, mission accomplished, tickets booked – France, here we come! I would like to take this opportunity to say a big thank you on behalf of the whole team to all of our incredible fans. For your support, the belief you showed in us, and also for their understanding," he said in a letter released by the German football federation.
"In the first few games after the World Cup in Brazil, the results were not what we wanted. However we could always feel the trust you had in us, and there was never any doubt in my mind that we would justify this trust. We found our feet as a team and today we can look back and say we had a successful qualifying campaign."
The Manchester United midfielder missed both the recent defeat to the Republic of Ireland and the win over Georgia due to injury, but hopes to captain his country to the title in France.
"Now we turn our attention to France, to the next big challenge. Quite soon after our victory in Rio I felt the motivation for the next tournament, and I realised how much it means to me to be successful at the Euros. I knew straight away that my journey with this team was not over yet. I'm very grateful for Joachim Löw giving me the honour of being team captain. It's a sensational feeling every time to walk out onto the pitch wearing the armband for Germany," he added.
"I can hardly wait to lead the team through the tournament in France as captain this summer. I am sure the hosts will put on a huge football festival. The stage is set: France have fantastic stadia, France have fantastic fans, France have fantastic footballers, and the French are a 'Grande Nation' in football. Alongside qualification for the European Championship, we were able to experience the warm-heartedness and hospitality of the French. It has been no different on my private trips to France. France will be a superb host for these Euros."
And despite the mixed record in qualification, Schweinsteiger is convinced Germany can rediscover their World Cup from to win the Euro Championship.
"As world champions, we can set ourselves the highest targets. Our ambition is to be in that final. I can also say: we want the next title. Since Rio we've been proudly carrying the fourth star on our kits: 1972, 1980 and 1996 – so far, three is the magic number for Germany in Europe. Now we want more. I'm sure we can achieve a lot along with you, the fans. Support us! Give us wind in our sails! You carried us to the tournament, now we want to go to France and experience another summer like the one in Brazil with you!"