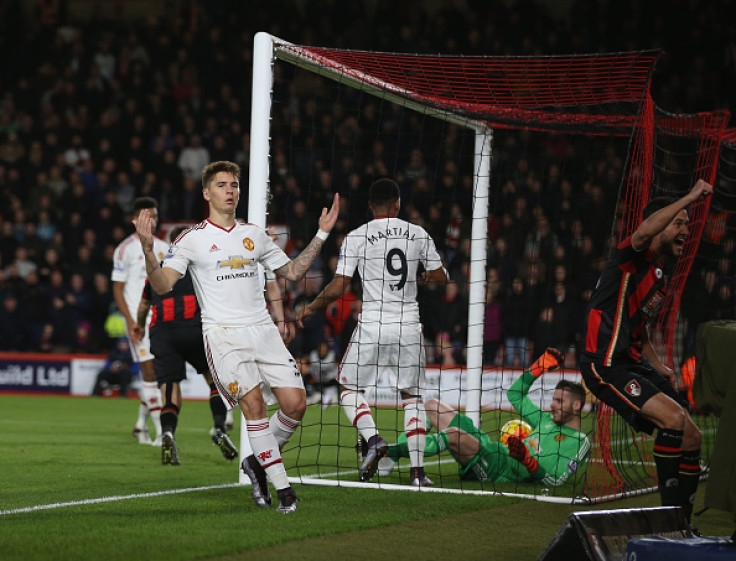 Manchester United defender Guillermo Varela has revealed that Louis van Gaal blocked his move away from the club during this year's January transfer window. The Uruguayan was keen to leave the club after he saw his path to the first team blocked by Matteo Darmian and Antonio Valencia.
The former Penarol star is keen to play on a regular basis and has got his wish in recent weeks due to a massive injury crisis, which has seen all the first choice full backs sidelined with injury. Valencia and Luke Shaw are long-term absentees, while Marcos Rojo has only just returned from a three-month absence with a shoulder injury. Darmian, who has been fit for most of the season, has missed games recently with a dislocated shoulder leaving Varela the only option for the manager.
The 22-year-old right-back has made seven appearances for the first-team since mid-December, and has featured in the Premier League, FA Cup and the Europa League. The Uruguay U20 international has indicated that he is happy at Old Trafford and is keen to have a long career at the club, but wants more involvement with the first-team.
"Because I saw I wouldn't play, I would have few chances, I spoke to the manager and he told me that no, I couldn't go, because I was going to play," Varela said, as quoted by the Daily Mail.
"Everything happened so quickly that you don't believe that you're playing in the most important league in the world. I take it calmly, train and look forward."
Varela, who was former manager David Moyes' first signing in 2013, has already spent time abroad on loan. He spent the entire 2014/15 campaign with Real Madrid, where he made 33 appearances for the Castilla under Zinedine Zidane, who has now been appointed the manager of the senior team following the sacking of Rafael Benitez earlier in the season. The youngster praised the Frenchman for his influence during a temporary spell with the Spanish capital club.
"Zidane taught us to have respect, solidarity and to work hard. We had an excellent year and we learned several things. I'm happy for him and his new job at Real Madrid. I feel I improved quickly in the game under his guidance," Varela added.