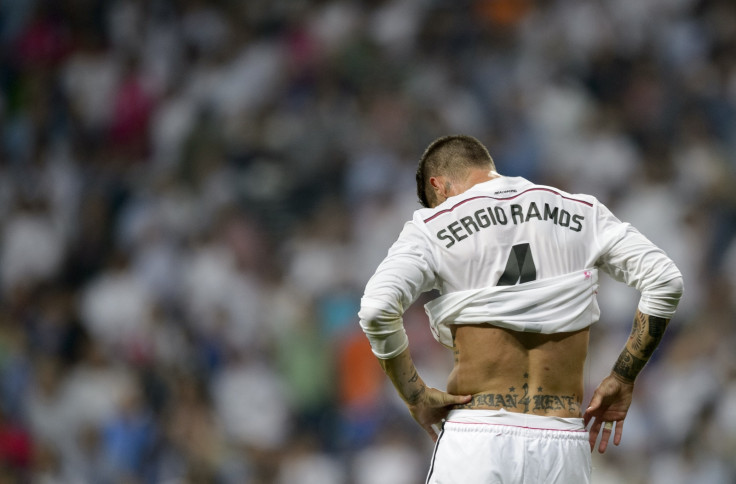 Former Real Madrid president Ramon Calderon believes Manchester United have "much more than a 50/50" chance of securing the services of Sergio Ramos while assuring the Spaniard is "not using" Louis van Gaal's side just to get a better deal at the Santiago Bernabeu.
Spanish newspaper AS reported on Sunday 21 June that Ramos has decided to leave Rafael Benitez's side this summer after being locked in negotiations over a new deal since the end of the 2014-15 season.
The Spanish publication later reported the player met with the club's officials on Wednesday 24 June to ask them to listen to offers as Manchester United are interested in securing his services.
AS later added that while Real Madrid president Florentino Perez is unlikely to match his €10m a year demands, Van Gaal is set to offer him a salary of €55m over five years to make him one of the highest paid players at Old Trafford.
And having brought the likes of Arjen Robben, Ruud van Nistelrooy and Wesley Sneider, Calderon told Newsweek that from his own experience, he is aware that when a player "is in this position, it is difficult to keep him with you".
Calderon said to Newsweek: "I hope that the chances of him leaving [Real Madrid] are not as high as I think. But at the moment, I think it is much more than 50/50. Everyone is very upset with the president at this moment so if Man Utd comes in firm with the offer, they will have a chance.
"In regard to him staying at the club, it is clear that the situation is in a very, very bad moment. He said to the club 'accept offers', that is the first step. In my experience, when the player is in this position, it is difficult to keep him with you.
"The relationship is broken with Real Madrid, I don't know if they can go back and try to sort it out. He is very upset at the moment, he feels humiliated in some way because they have tried to present him as someone who is only interested in money."
Some have questioned whether Ramos is just using Manchester United to force Real Madrid to match his wage demands at the Bernabeu.
But Calderon, who knows the player and his agent and brother from his time at the club, rubbished that. He said: "It's not like that, believe me. He's not using Manchester United to get more money, I know him well, I know the agent."