Real Madrid star Sergio Ramos met with the club officials on Wednesday 24 June to discuss his uncertain future at the Spanish giants amid interest from Manchester United in securing his services, according to Spanish newspaper AS.
The future of the 29-year-old centre-back at the Santiago Bernabeu has been under increasing scrutiny in recent days after the star's relationship with club president Florentino Perez hit a rocky patch, with them locked in negotiations over a new deal since the end of the 2014-15 season.
AS reported on Sunday 21 June that Ramos has decided to leave Rafael Benitez's side this summer even though he still has two years remaining on his contract.
And while the BBC later reported that United manager Louis van Gaal wants to make him the leader of his back line, AS assured the Premier League giants have offered €30m (£21.3m, $33.7m) plus the services of Real Madrid target David de Gea to complete the signing of the centre-back.
On 23 June, a story in Marca claimed Ramos said he was "relaxed" about reports linking him with a move away from Real Madrid during the summer transfer window, with the defender refusing to rule out his exit from the Santiago Bernabeu.
And now AS has spotted him arriving in his car to the club training ground of Valdebebas after meeting with Real Madrid officials to discuss his future.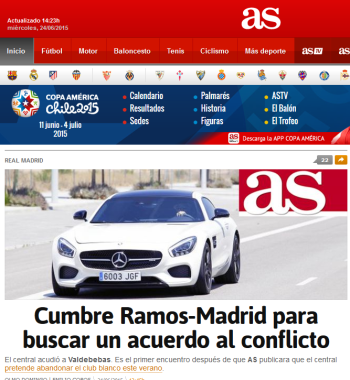 The Spanish publication insists that even though the player wants to leave the club due his relationship with Perez, both parties have to reach an agreement as he still under contract and no one is likely to pay his €200m release clause.
In this sense, AS claims that alongside reports United have made an offer for the defender, the club will not reach a figure close to that of Ramos's buy-out clause.
So Real Madrid now have to accept negotiating his departure for a cut-price deal or manage to convince him to stay at the Bernabeu by offering him a lucrative contract.