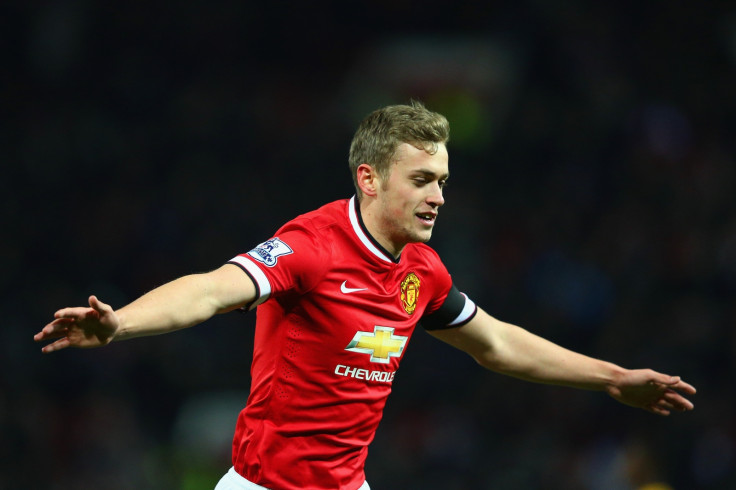 James Wilson is the answer to Manchester United's lack of a genuine 20-goal striker in the eyes of manager Louis van Gaal, according to former forward Teddy Sheringham.
After scoring twice on his United debut last season, the 19-year-old has been given further responsibility this term making 12 appearances and scoring once, an effort that came against relegation-threatened Queens Park Rangers.
Van Gaal has constantly bemoaned his lack of a regular goalscorer in his first-team squad with loanee Radamel Falcao - whose future at United is uncertain - having endured a lousy campaign, while Robin van Persie and Wayne Rooney have netted 10 and 13 goals each respectively.
With Rooney now reinstated in attack after a brief period in the United midfield, Sheringham believes Wilson can become the skipper's new long-term partner; a combination that could help both players over the 20-goal mark.
"I really like James Wilson," Sheringham told the official United website. "It's a shame for him that Radamel Falcao and Robin van Persie are in front of him.
"Louis van Gaal said recently that he doesn't have a striker who can score 20 goals a season, but I think if you put Wilson up there with Wayne Rooney then you'd have two players who can reach those figures for you.
"He's very direct, scores goals, has good pace and that added bonus of being a left-footer – they always tend to catch defenders off guard and it always looks more special when the left-footed strike goes in. I like his attitude, he looks a good player, a good prospect and one that everyone needs to keep an eye on."
Wilson was an unused substitute in the 3-0 win over Tottenham Hotspur but was back in action for the United Under-21 side against Everton, scoring in the 2-1 victory but going off injured in the first half.