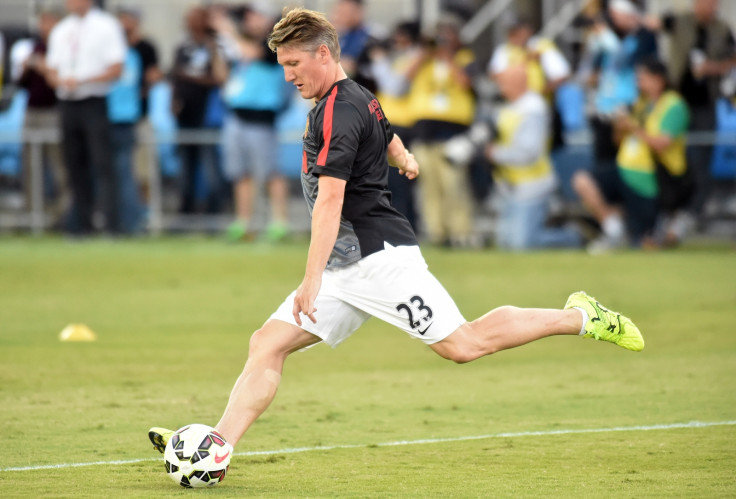 Manchester United manager Louis van Gaal has received a boost ahead of the second Premier League fixture against Aston Villa after summer signing Bastian Schweinsteiger revealed he is set to approach full fitness.
The Germany international started the 1-0 victory over Tottenham on 8 August as a substitute after the manager claimed he was not ready to play the full 90 minutes as he joined the team "at the last moment out of his holidays".
The news revived question marks over his fitness after Bayern Munich manager Pep Guardiola warned the midfielder has not been fully fit in three years.
"He is a top, top player. Unfortunately, the last three years he was never in good condition. When he is in very good condition I am convinced he will be a good player for them. I really hope that is going to happen," he was quoted as saying by the Mirror.
But speaking ahead of the visit to Villa Park on 14 August, Schweinsteiger claimed he is approaching full fitness after suffering a calf niggle during the pre-season tour in America.
"It's fine. I had three or four days in America where I had this injury and it was not so good for my rhythm. Now I feel much better and also the game was very important to play 30 minutes. The training sessions are very important for me, too. I'm getting better and I hope I will be 100% fit in the next week," the former Bayern Munich star said to MUTV.
Meanwhile, the 31-year-old midfielder expressed his delight regarding the welcome given by Old Trafford fans in his debut after replacing Michael Carrick in the second half of the game against Spurs. "It was amazing, really. I was surprised and I have to say 'thank you' to all the supporters. It was a great feeling and yes, at the end, we won so it was a good day for us," he said.
"I'd played twice before in the Champions League but this was something new on Saturday. The support is huge; I knew that before I came here and saw it in the USA as we had a lot of supporters there too. It was great and a special day for me on Saturday."
Having won eight Bundesliga titles and one Champions League during his time at the Allianz Arena, Schweinsteiger hopes to use his experience at Old Trafford after having settled quick to life in England.
He said: "It's getting better and better. Everything is something new for me – a new step in my life – and I'm really looking forward to settling in more and more with my teammates. They are helping me a lot and we do a lot of things together in our free time. My teammates help me to choose restaurants, for example, and golf courses, something like this. But the most important thing is to be successful this season and to win the matches."