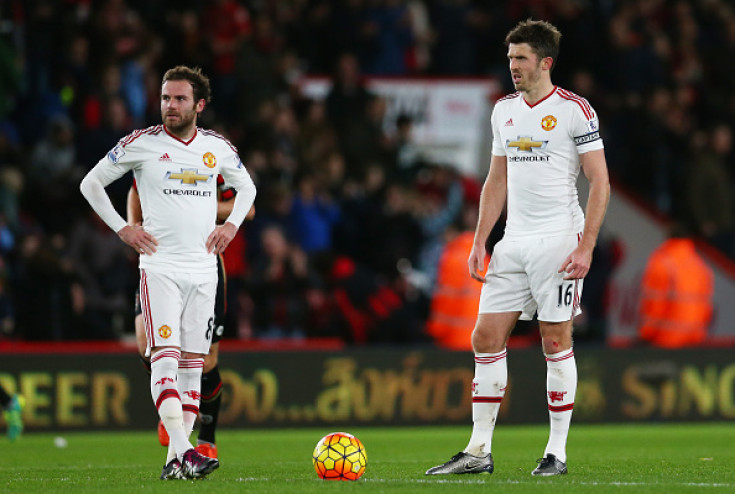 Juan Mata has urged his teammates to move forward with the right attitude and give their best to help Manchester United get out of the difficult "situation" they are in. The Old Trafford side are without a win in their last five matches played in all competitions, which includes an exit from the Champions League following the defeat to Wolfsburg.
Louis van Gaal was hoping his side could bounce back against AFC Bournemouth, but succumbed to a 2-1 defeat at the Vitality Stadium. The former Chelsea star believed the only way Red Devils can regain their confidence is by winning matches.
United's last win was against Watford on 11 November and since then, they have gone without a victory for over a month. Hence, Mata wants the Old Trafford club to turn their anger and frustration of poor results into "good wins" to help the club get back to winning ways.
"With the right attitude and each of us giving the maximum we will get out of this situation. This is a long season and there's still a long way to go. We will never give up, that's for sure. December is a difficult month and it's time to start winning again and get our confidence back," Mata wrote in his weekly blog.
"I've been thinking a lot about Saturday evening and what to tell you after such a disappointing week... I know that you don't want to read this, that words are not enough right now. And I agree with you.
"For me, writing is complicated when all I really want now is to have another game to play as soon as possible. But everything passes and this bad streak will pass.
"When we were coming back from Bournemouth all I could think about was the frustration of the defeat, the disappointment of those who came with us, those who watched the game on TV, those who were with us in Germany... And the only thing to turn that anger into happiness is through good results, not words," the Spain international concluded.