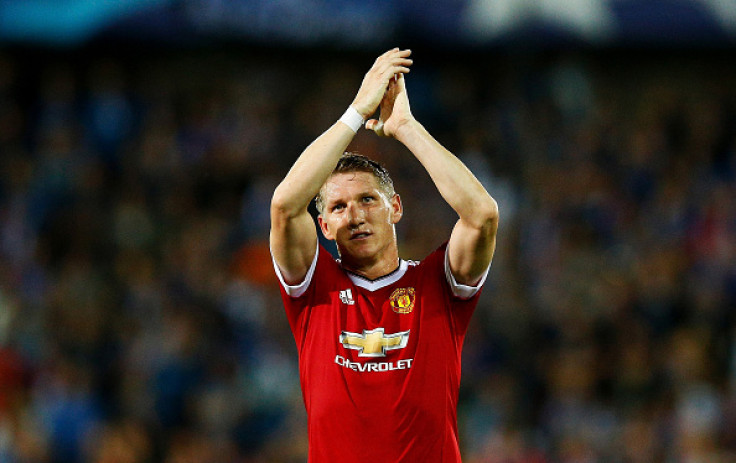 Bayern Munich chairman Karl-Heinz Rummenigge has urged Louis van Gaal to lay off Bastian Schweinsteiger after the Manchester United manager made comments over the German's inability to live up to expectations. The 31-year-old transferred to Old Trafford in the summer from Bavaria but has not been able to provide the same influence like he has for Bayern or the national team in the past, much to the chagrin of his present manager.
Van Gaal had revealed that he had bought Schweinsteiger for his leadership qualities and ability to guide a team, something the German has not delivered till date. The Red Devils find themselves out of the group stages of the Champions League and without a win in their last four games in all competitions, which has increased the pressure on the manager to step up to the task.
"The reason why we have bought Schweinsteiger is that he is a player who can lead or guide a team. That is important - not only his football qualities - but that he can lead and guide a team on the pitch," Van Gaal told United's official website.
"I believe that every match that he plays he can play better because until now we have not seen the best Schweinsteiger that I have seen at Bayern Munich, but he can guide the team."
Rummenigge, who has been a major advocate for Schweinsteiger during his time at Bayern, has jumped to his defence, stating that the player needs more time on the pitch to be able to properly dictate the game and build a relationship. The German was substituted in the second half in their 3-2 defeat against Wolfsburg, with Michael Carrick coming in to see off the rest of the game.
"One must sometimes have patience; he has been here for only three months. It usually takes time before a player who has played seventeen years in a different league, to adapt to the new surroundings," Rummenigge told SportBild.
"Louis should leave Bastian alone, he absolutely wanted him, Bastian will take a little time. You can't now pass judgement on him."