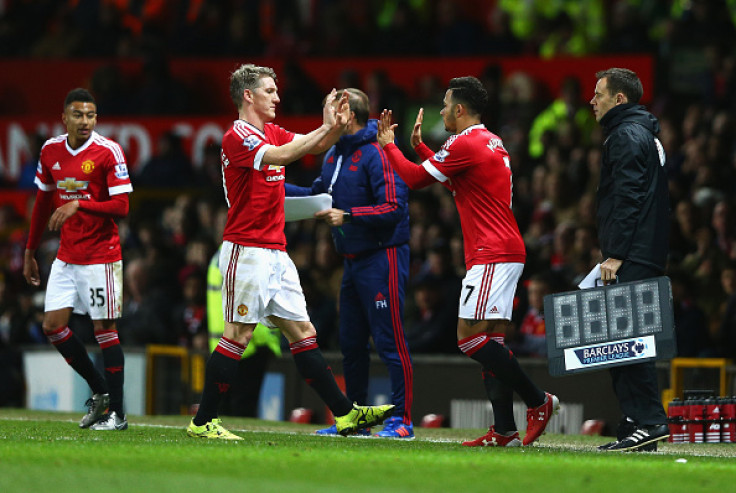 Manchester United manager Louis van Gaal admitted that he replaced Bastian Schweinsteiger midway through the second-half due to the midfielder's failure to perform at the desired level following the Red Devils' exit from the Champions League at the hands of Wolfsburg on 8 December. The Premier League big guns lost 3-2 in a game that saw the Dutchman give opportunities to a number of young players due to the injuries to senior members of the squad.
The former Bayern Munich manager chose to start Schweinsteiger and Marouane Fellaini ahead of Michael Carrick in midfield, with the experienced England international only coming on in the second-half for his German counterpart. The Old Trafford club looked overrun in midfield at times during the game, with both the midfielders finding themselves out of position leaving open spaces for the German club's players to run into. The second goal scored by Wolfsburg was reminiscent of their ineffectiveness as Vieirainho completed a slick move that was started by the goalkeeper and constructed by the brilliant Julian Draxler.
The 31-year-old German is facing a prospective three-game ban after being charged with violent conduct by the FA for an incident with Winston Reid during United's 0-0 draw against West Ham United on 5 December, and this could see him miss crucial clashes ahead of the busy holiday period. Van Gaal understands the motivation of the player to perform consistently at a high level, but believes he was not the same player, who made his breakthrough under the Dutchman during his stint as the manager of the Bavarian giants.
"I have changed [replaced] him and I don't change players for nothing. Then I think I can do it with other players better. We are all human beings and also Bastian is a human being, and he wants to play at the highest level and certainly in Germany to show his qualities. I cannot say that he was the Schweinsteiger from my period in Munich in this game," Van Gaal said, as quoted on Manchester United's official site.