Former Real Madrid president Ramon Calderon has told IBTimes UK he believes Iker Casillas will be forced to leave the Santiago Bernabeu once his contract expires in summer 2016 and backs Manchester United goalkeeper David De Gea to become his successor.
The Real Madrid legend has been under scrutiny in recent years since Chelsea manager Jose Mourinho, during his time in charge of Los Blancos, relegated him to the bench and put Diego Lopez in goal.
Even though the Spain international has regained his starting spot under manager Carlo Ancelotti, some of his own supporters have expressed their disapproval during a number of games by whistling in anger at him.
Calderon blames Mourinho for the Spaniard's situation as he believes everything started when Casillas called his Barcelona friends (Xavi Hernandez and Puyol) to amend their relationship following a number of rifts between the Barcelona and Real Madrid players during the Clasicos played when the current Chelsea boss was in charge.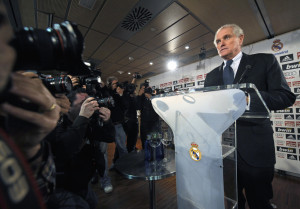 So even though the former Real Madrid president would love to see Casillas hang up his boots at the Santiago Bernabeu, he believes the scrutiny will force him to leave the club.
"I think they are not letting him to continue. Once his contract expires I have the feeling that he will have to go. And like it happened with Raul, he unfortunately will leave in a bad way," Calderon said during an interview with IBTimes UK.
"The scrutiny over Casillas came from Mourinho's obssesion. It was simply because he did something that any [sports star] should do, when he called his Barcelona friends to tell them that Real Madrid and Barcelona were not [behaving in the right way]. Since then he had a brutal confrontation with the boss.
"But they signed Diego Lopez and he is already out and so they brought Keylor Navas last summer and Casillas is still the number one. This is because Ancelotti believes the one on the bench is not better.
Club icon Casillas
"I have a special affection for Casillas because he has done something very difficult to repeat. He has won everything both with Spain and Real Madrid. If Casillas were playing in England he would have a statue on the pitch and will be a club icon. Here, instead, we have created an absurd controversy."
That controversy has seen Real Madrid reportedly targeting David De Gea as his replacement. The former Real Madrid president hails the United star to fill the Casillas void but insists it is still soon to believe Casillas is past his best.
"I think De Gea is a great goalkeeper. As I said before, the problem is that right now I believe we still have one of the best three 'keepers around the world in Casillas... but if Real Madrid want to bring De Gea this summer they will know what they do. I think the debate over Casillas shouldn't be happening now but it would be different if in 2016, when his contracts expires, he decides to go or the club decide against his staying.
"De Gea is a great goalkeeper. He is very, very good. He certainly would fill Casillas's void with great warranties and is what Madrid needs. Because being a 'keeper at Real Madrid is not easy although it seems otherwise."
Asked whether he believes De Gea's expected move to Real Madrid will happen this summer or the following one, once his contract ends at United, he said: "It will depend on Florentino Perez. He sometimes has visceral reactions but I guess it will depend on whether Real Madrid win any titles this season."