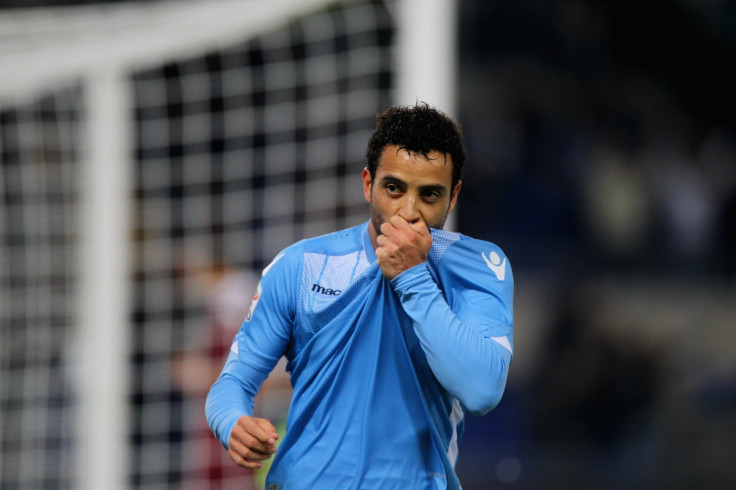 Lazio sporting director Igli Tare has suggested the club may have made a mistake in not accepting Manchester United's €50m (£38.6m, $55.7m) offer for Felipe Anderson. The 22-year-old enjoyed a hugely impressive second half of the 2014-15 season where he helped Lazio finish third in Serie A, enough to secure them Champions League qualification.
The Serie A giants fell at the first hurdle when they lost their play-off to Bayer Leverkusen, though, and have also failed to match last season's last feats in the league, currently sat in seventh, 13 points of third placed Fiorentina. Anderson's indifferent form has contributed to their disappointing campaign and Tare has suggested the club perhaps made a mistake in not cashing in on the Brazilian winger in order to further strengthen their squad.
In an interview with Corriere dello Sport, he said: "We have to make a complete analysis when making decisions, both on an economic and a sporting level. I have seen the transfer activity at other clubs, where they decided to sell some of their valuable assets. It happened at Juventus, at Roma at Inter and at Napoli. Those could be examples for us.
"I can understand if you sell a player and then reinvest the money to strengthen the squad. Maybe we made a mistake not to sell anyone. But the idea behind our decision not to take the €50m for Feilipe Anderson was because we wanted to continue our project with the same group after a good season. If you make it into the Champions League, your players are worth even more."
Anderson's stock has dropped considerably since the summer transfer window, where Lazio felt comfortable in rejecting offers that exceeded United's €50m bid.
"He has to find his calm, he is a player who is now well-known and feared. He has what it takes to emerge from this negative moment," Tare told Sport Mediaset Premium in January. "We turned down a €50m offer from Manchester United on 27 August and nothing has changed since then, because if he finds consistency, then he's worth much more. We also resisted bigger offers than that, but we have targets to achieve."