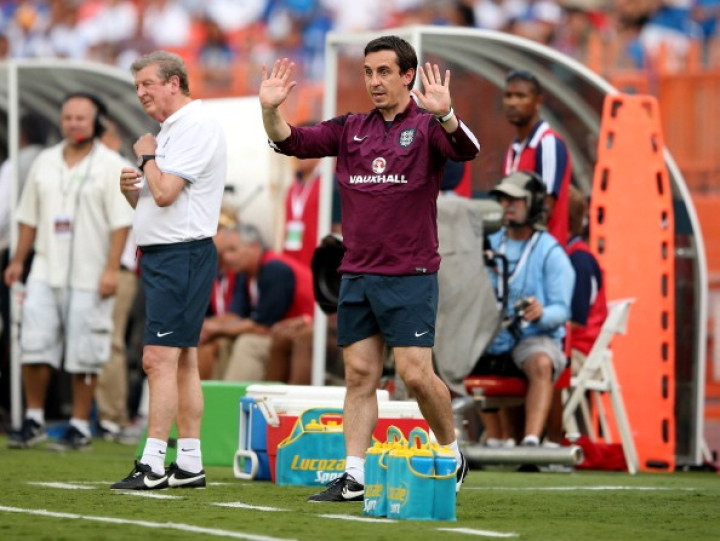 Manchester United legend Gary Neville has slammed his old club for selling striker Danny Welbeck to Premier League rivals Arsenal.
The north London club snapped up the striker from the Old Trafford club on transfer deadline day after the England international was deemed surplus following the arrival of Radamel Falcao from AS Monaco.
The former United defender is still struggling to understand the logic behind the sale and has branded it 'strange'. He is also shocked that the Gunners managed to land the player for just £16m.
"I can't work it out [why Manchester United sold Welbeck]. After all the prices I've seen paid this summer and, obviously I've been working with him the last week, I'm thinking how is it just £16million?" Neville told talkSPORT.
"There's been right-backs and left-backs galore who have been bought for £15million this summer. How have they got him for £16million?"
Neville can't understand why the Red Devils would sell the striker and strengthen one of their main rivals. Taking a sly dig at the Gunners, he said Arsenal will be vying for the same third and fourth positions in the Premier League with United.
"I can't work it out to this day, it's a strange one. It really does feel strange that it's a centre forward and actually it's helped out a competitor, someone who will be vying for those third and fourth places with United this season," the former England international explained.
"I'm struggling to understand the logic behind the deal in two or three ways really."
The former Red Devils skipper has also questioned the squad composition of United and wonders how Louis van Gaal will fit in the likes of Falcao, Robin van Persie, Angel di Maria, Juan Mata, Wayne Rooney, Herrera and Januzaj into the team without disrupting the balance.
"Falcao tipped them over the edge, it surprised and shocked everyone. How he gets them in that team I don't know. How they get Rooney, Di Maria, Robin van Persie, Falcao, Herrera, Januzaj and Mata into that team I don't know," Neville said, as quoted by the Daily Mail.