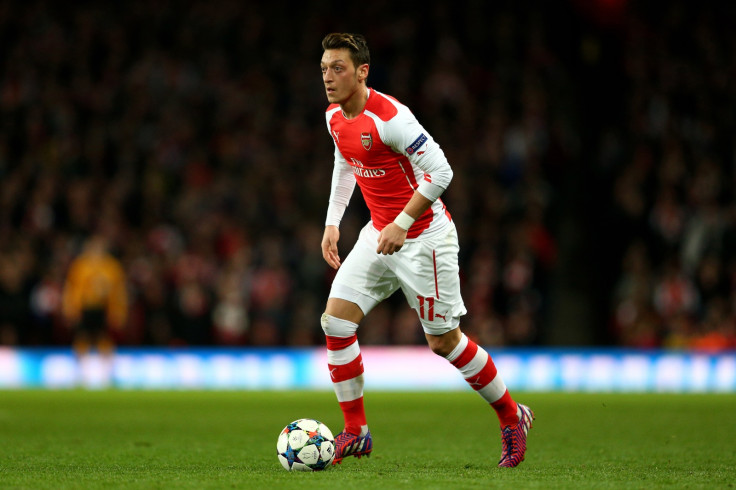 Manchester United legend Paul Scholes has defended his criticism of Mesut Ozil, insisting the Arsenal midfielder's decision to swap shirts at half-time of the club's Champions League last 16 second-leg win over AS Monaco did not form the basis of his view of another disappointing evening for the German international.
Ozil, Arsenal's record signing at a cost of £42.4m ($62.6m), has struggled for form and consistency since his move from Real Madrid in 2013. He attracted yet more negative headlines at the Stade Louis II after giving his shirt to Monaco midfielder Geoffrey Kondogbia as the two players headed to the tunnel with the visitors leading 1-0.
Arsenal eventually won the match 2-0 but a costly 3-1 defeat in the first leg meant they exited the tournament at the last 16 stage for the fifth consecutive year, with Ozil, as has been commonplace ever since he joined the club, among those singled out for an apparent lack of impact on the biggest stage.
Scholes, present in the principality alongside Emmanuel Petit and Lee Dixon in his role as a pundit for ITV, was typically scathing of Ozil's ill-advised shirt swap yet it appears his negative critique of the 26-year-old centres on his struggle to influence games for Arsenal in the same manner as he has in the past for both Germany and Real Madrid.
"It was another game from Özil, and another failure to make the big difference," Scholes wrote in his latest column for The Independent. "It was not his worst performance, and he had a role in the first goal for Olivier Giroud, but how long must Arsenal wait for him to deliver the moment that wins them a tie like that against all the odds? He found space but his touch was not great. He tried hard but he slows Arsenal down at times. He was bought to make a difference on nights like that.
"As for the shirt-swapping at half-time, as I said on ITV, I don't like it. We never did it at Manchester United because there would have been an explosion from Sir Alex Ferguson when he saw you come back into the dressing room. But even if that had not been the case, I would never have done it. I was there to win a football match, not to start a memorabilia collection.
"I knew the shirt-swapping business in general was getting out of hand when opponents would ask me for my shirt while we were still mid-match. Those are the wrong priorities. But that is just a detail, and not the basis of why I felt Ozil had a disappointing evening for Arsenal."
Despite voicing his concerns regarding the Arsenal midfielder, Scholes did reserve praise for the recent performances of Aaron Ramsey after the Welshman followed up his goal in the resounding victory over West Ham United with another strike against Monaco.
"I watched Ramsey against West Ham and I thought that in both games he looked sharp," he added. "He scored against West Ham and then against Monaco when he came on and, at the moment, he carries that threat that he will either create a goal or get one himself.
"As for Özil, he has played in two great teams, for Germany and Real Madrid, and I think that away from that level of the highest quality he is struggling to influence games the same way."