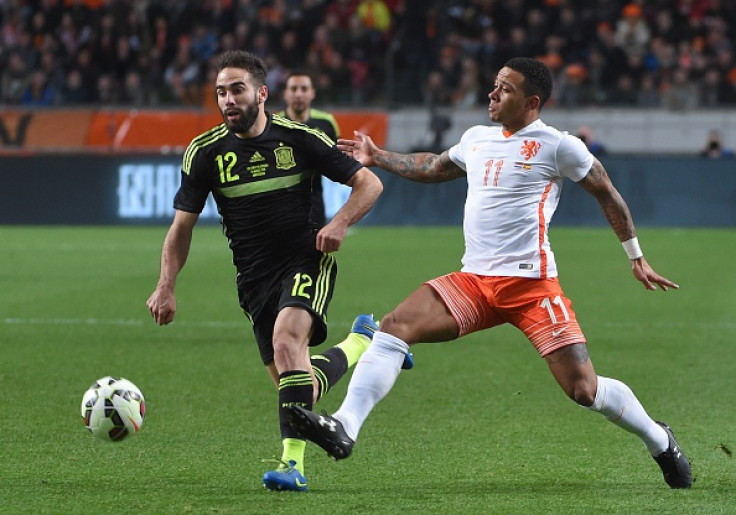 Manchester United and Liverpool are set for a summer battle in signing Real Madrid defender Dani Carvajal this summer, according to the Spanish newspaper AS.
The 23-year-old has been a key player in Carlo Ancelotti's side this season having featured in 43 games in all competitions. He has cemented his place in the starting line up, ahead of Alvaro Arbeloa.
The Spanish capital club have already agreed terms with FC Porto for the transfer of Danilo at the end of the season. He has been in fine form for the Portuguese club and his arrival has raised concern over Carvajal's future in Madrid.
Real allowed Carvajal to join Bayer Leverkusen in the summer of 2012 and re-signed him just next summer after his brilliant display with the Bundesliga outfit. His current deal at Santiago Bernabeu runs down in 2019.
In April, the right-back admitted that the arrival of Danilo is good for the club and he will fight with the South American for a place in the starting lineup next campaign.
"The signing of Danilo is good. We are at the best club in the world and competition is always good," Carvajal said, as quoted by Sky Sports.
"It's normal that we compete with the best in the world. Right now Danilo is not here. I will be with him next year and I will compete with him and we will try to play as much as possible."
However, the report claims that the Spain international is concerned over his long-term future at the club as he believes Real could offload him in the summer. Carvajal has no desire to leave Real, but fears the club could force him out after a series of errors that cost them the Champions League and also almost the league title.
He brought down Juventus striker Carlos Tevez in the first leg of the semifinal clash in Turin, which saw the Serie A giants seal a 2-1 win. The return leg in Madrid ended in a 1-1 draw, allowing the Italian club to progress to the final.
United need a right-back in the summer as Louis van Gaal has been fielding winger Antonio Valencia in that position. Liverpool will lose Glen Johnson on a free transfer this summer as the Reds have not handed him a new deal.
Both United and Brendan Rodgers' side are looking for a right-back in the market and have been alerted of Carvajal's availability. The Premier League clubs could face competition from European giants as the same report also claims Bayern Munich and Paris Saint-Germain are also in the hunt for the defender.