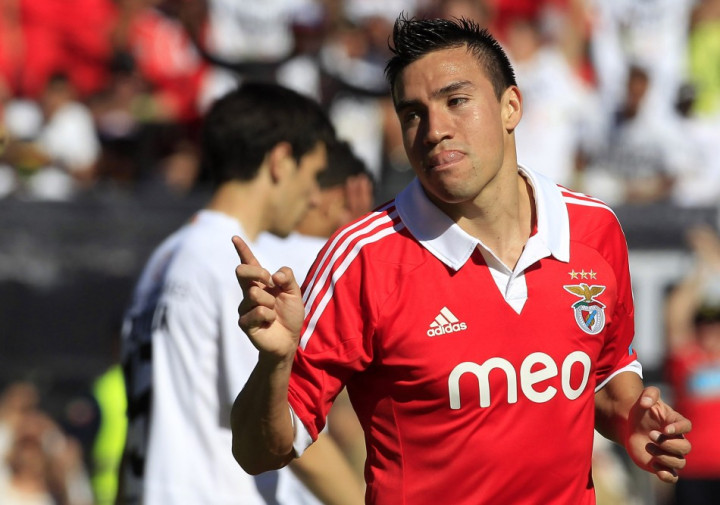 Manchester United and Liverpool's hopes of signing Nicolas Gaitan have been dashed after the midfielder admitted that he was happy at Benfica.
The 26-year-old has long been a transfer target for the Old Trafford club as United were keen on sealing a summer deal and are still in the frame for his signature. The Red Devils's league rivals Liverpool are also interested in securing the attacking midfielder's services.
Gaitan has put the recent rumours linking him with a move away from Benfica to bed after admitting he is not thinking of leaving his current employers in the summer transfer window.
"I have to be honest, at the time I did not want to leave Boca Juniors," the Express quoted Gaitan as saying.
"I had played there all my life, but it was a good deal for me and the club. I had the opportunity to come play in Europe, to play the Champions League and Europa League, and now I'm very happy to be at Benfica."
"The same thought that I had when I was at Boca Juniors is what I now think of Benfica. I do not want to leave. I'm not heading for the exit at Benfica," the Benfica star stressed.
The Argentine international has been a regular inclusion in the Portuguese champions starting XI and has made 25 appearances in the league during the 2013/14 season.
Meanwhile, former United striker David Sadler has backed Wayne Rooney to shine for England during the World Cup in Brazil. The Red Devils star is the Three Lions key player along with Liverpool's Daniel Sturridge to lead their national side's attack.
"You're talking to a Rooney fan - and I think Wayne will do great. It's been a little bit off-putting with the press in recent days but the journalists have got to do something to justify why they are out there following England around," Sadle told United's official website.
"Wayne knew he needed a couple of matches, at least, to get fit. You can see it here at United every season - when he starts off, it invariably takes him three or four matches to start getting his touch and hitting top form. He'll be fine."
"I know he's not had the best of World Cups before but there have been some mitigating circumstances for that. I think he'll do very well in Brazil," he added.