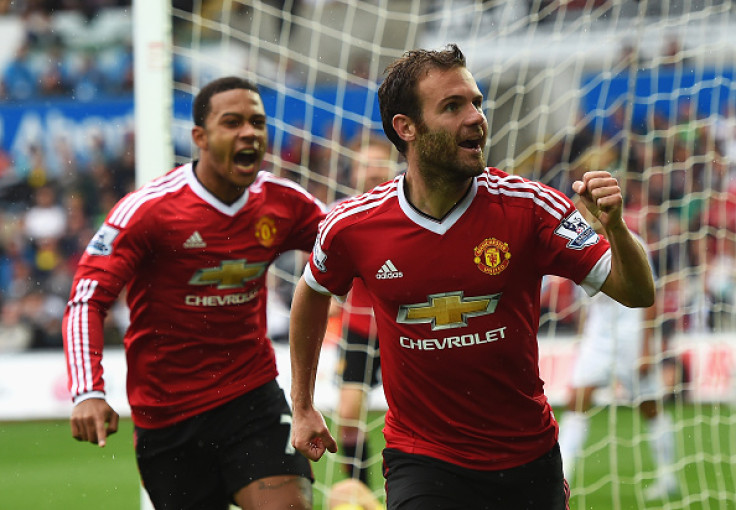 Manchester United manager Louis van Gaal has admitted that his team played better in the first half, despite all three goals during their 3-1 win over Liverpool on Saturday (12 September) coming in the second half. The game between the two arch rivals was the only game played on the day when there were no shots on goal registered by either team in the first period.
The Dutchman, who maintained that his team had more control during the opening 45 minutes of the game, rued the lack of clear-cut opportunities created by his team despite their dominance. The 20-time English champions were unable to find the final pass, which frustrated the manager, who acted swiftly by making changes at half-time.
Van Gaal identified Memphis Depay and Juan Mata for their poor passes in the final third against Liverpool and revealed that it was their poor play that prompted him to make changes early in the second half. The former PSV Eindhoven forward was taken off at half-time, while the Spanish midfielder made way for debutant Anthony Martial after 65 minutes, but the Spaniard will retain his place for United's visit to Eindhoven for their first Champions League clash on Tuesday 15, September.
"I think we played better in the first half, we had far more control but we didn't create so much. I think there were two chances and a lot of possibilities in the third and fourth phase but the last pass was not so good. That's why I changed Memphis [Depay], to improve that last pass and also [Juan] Mata," Van Gaal said, as quoted by United's official site.
"Memphis knows by himself that his final pass wasn't good enough. Also Mata, his last pass wasn't as good as usual. Then you have players on the bench and you can improve the play of your team so that's why I changed. But that doesn't mean he doesn't play against PSV Eindhoven but today he wasn't what I expected," the Dutchman added.