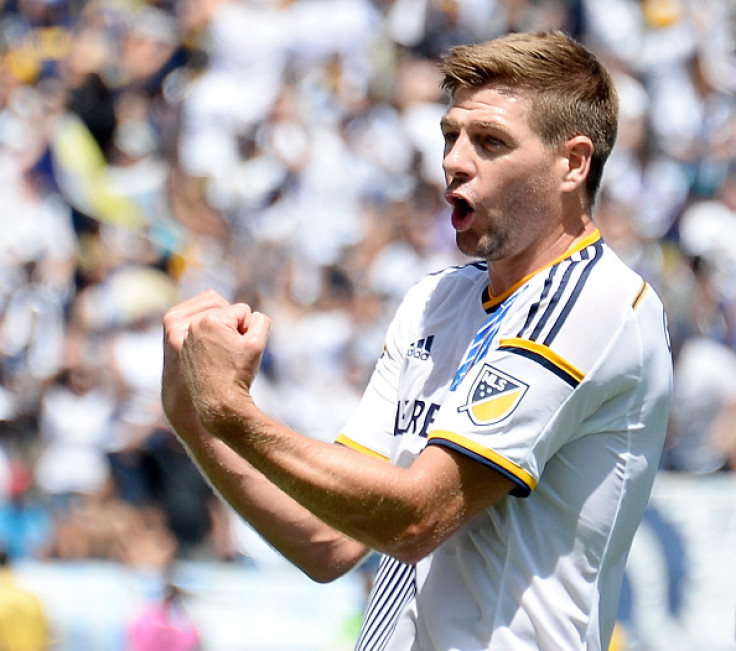 Liverpool's Steven Gerrard has admitted that Manchester United tried to sign him during Sir Alex Ferguson's reign at Old Trafford. The Reds midfielder was speaking from extracts in his newly launched autobiography Steven Gerrard – My Story ahead of the all-important Premier League clash between his former side and the Red Devils on Saturday 12 September.
The former England international midfielder revealed that Gary Neville, who was a former Three Lions teammate, tried to pursue Gerrard into joining his club's arch-rivals on behalf of his then club manager. Gerrard has been subject to interest from various clubs during his time at Liverpool, which saw him win the Champions League and the Uefa Cup, but never the Premier League.
"My agent, Struan Marshall, told me that, under Fergie, United had a decent pop at trying to sign me. Gary Neville would knock at my door during England camps," Gerrard wrote in his autobiography, as quoted by the Liverpool Echo.
"He'd come in for a chat and let me know how much United would love me to play for them. Gary told me Fergie had sent him," the former Reds skipper added.
The 35-year-old midfielder, who left Liverpool to join LA Galaxy in the MLS has confessed that he was slightly hurt when Ferguson criticised him in his autobiography, which was released following the Scot's tenure as the Red Devils' manager. But the footballer made it clear that he still has an enormous amount of respect for the greatest manager of the Premier League era.
Gerrard believes that he would have done well and had plenty of successes if he had chosen to play with the 20-times English champions. However, he questions if Roy Keane and Paul Scholes, the stalwarts of United, would have been as successful if they represented Liverpool during the same era.
"In 2004, Ferguson had called me 'the most influential player in England, bar none' and suggested that 'anyone would love to have Gerrard in their team'."
"So I was a little hurt and surprised when 13 years later, Ferguson used his autobiography to insist he was one of the few who never thought I was 'a top, top player'. I wouldn't lose any sleep, but I was slightly taken aback after all his praise," the LA Galaxy midfielder explained. "The only point that mattered was that I have real respect for Ferguson, but I wondered how many league titles he thought Scholes or Keane might have won if they had played for Liverpool."
"I would have done OK in a United team playing alongside Keane in midfield with David Beckham on the right, Ryan Giggs on the left and Ruud van Nistelrooy up front. I would have managed pretty well in that side," Gerrard added.