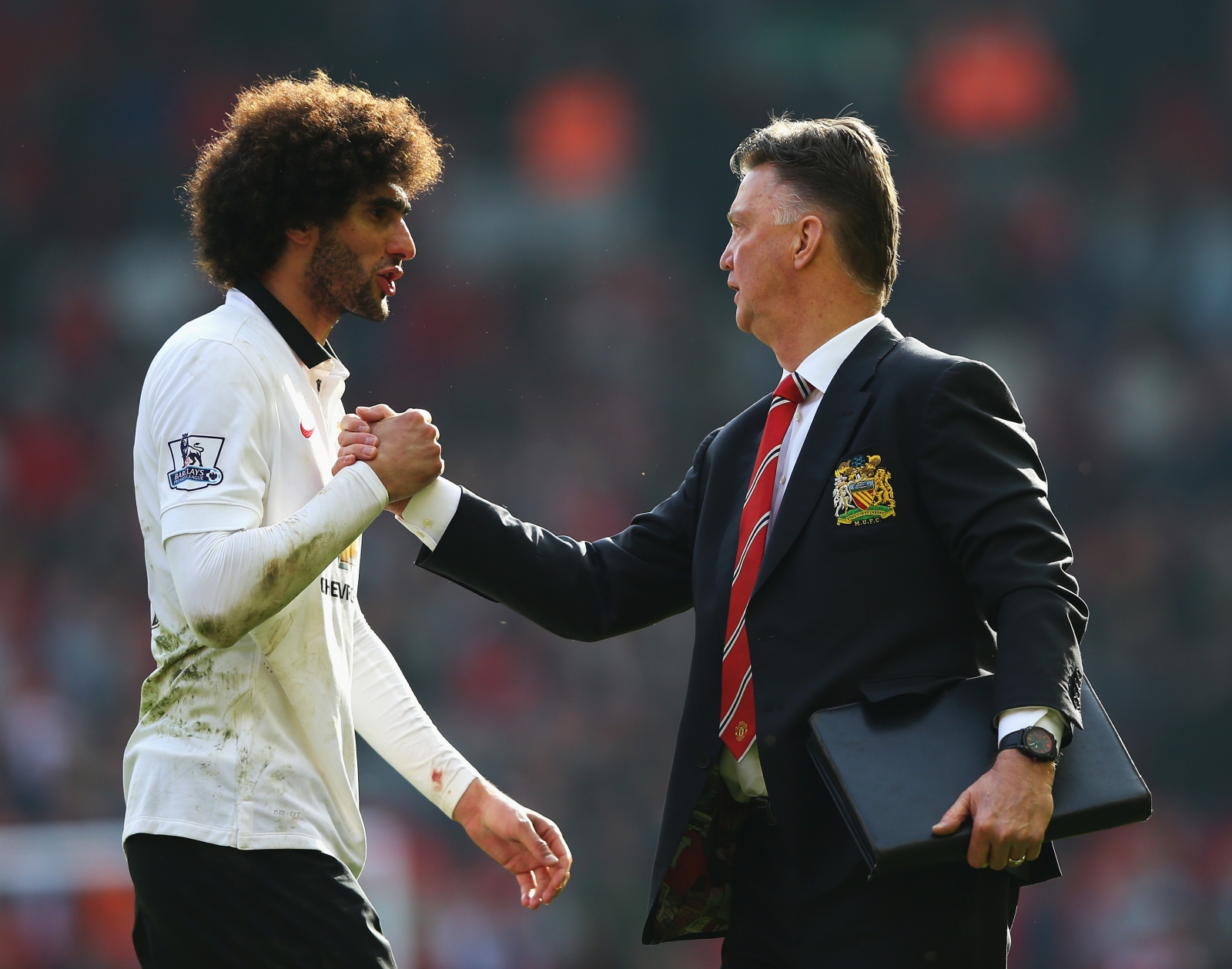 Manchester United manager Louis van Gaal says he will use Marouane Fellaini as a striker and in the number 10 role this season. Following his side's 0-0 draw with Newcastle United on Saturday 22 August, the United boss has been pressed on his side's need for more firepower up front.
From their opening three Premier League games of the season United have scored twice – one via a deflection and the other an own goal. The Premier League side looked much more vibrant in attack in their Champions League play-off first leg clash against Club Brugge last Tuesday, with Fellaini nodding home his side's third after an impressive double from Memphis Depay.
Fellaini, who was suspended for the club's opening three league games this season, gave United's attack a different dimension when he came off the bench in that win at Old Trafford, and van Gaal has indicated he will look to the Belgium international to continue to contribute in a more advanced role.
"He [Fellaini] can play as a nine, or as a 10, but he can also play [as] a six and eight. This year he will play more as a nine or 10, than six or eight, because we have other players to play in midfield," van Gaal told a press conference, via MUTV.
Sitting alongside his manager, Fellaini welcomed the opportunity to take up a role up front if needed. "In the past I played 10 and nine sometimes, and I had to help the team. I can play there and help my teammates. For me, it's not important where I play. The most important thing is to win. It's different to play in midfield from a striker, but I enjoy playing in all positions."
While Fellaini's limited appearances this season have been enforced, Ander Herrera's role on the bench has mystified sections of the United support eager to see the Spaniard return to United's midfield.
When asked if Herrera, who is yet to start a game this season, will do so against Brugge, van Gaal added: "You will see. We will need every player because the Premier League demands so much. I have to rotate."
United hold a 3-1 aggregate lead heading into their second leg clash with Brugge on Wednesday but van Gaal is still wary of the threat posed by the Belgians.
When asked if this was United's biggest game of the season he responded: "Yes because it was our aim to participate in the Champions League. We are still not there yet, it's very important. We have to play the game, at the end you have to have scored more than one goal than the opponent. They have beaten Greek opponents 3-0, they are capable of doing that with the support of their fans."