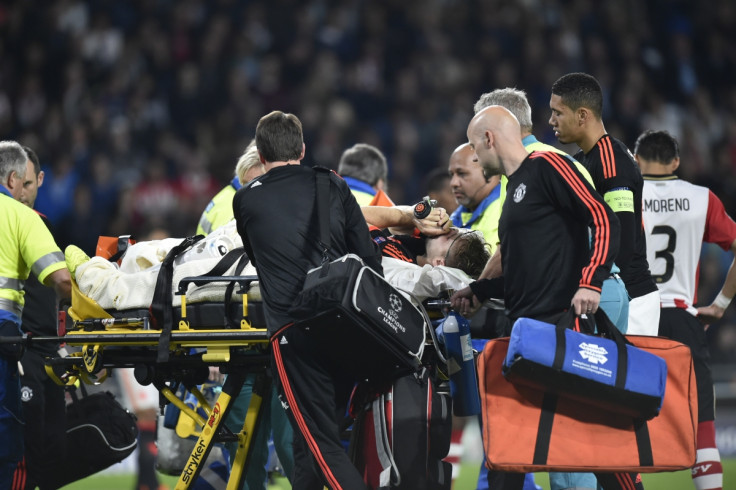 Luke Shaw's double leg break is just a "minor blip" in his career, according to former Manchester United physio Matt Radcliffe. Shaw, 20, is facing a lengthy spell on the sidelines after suffering an horrific injury that left him with a broken tibia and fibula in United's 2-1 defeat to PSV Eindhoven in their Champions League opener on Tuesday 15 September.
The defender underwent emergency surgery in Eindhoven immediately following the incident and according to Sky Sports, will have a second procedure on his right leg on Friday 18 September.
United manager Louis van Gaal remains optimistic Shaw could return before the end of the season, but the player now faces a long road to a full recovery. Radcliffe, who worked with Shaw at both Southampton and United, is optimistic over the left back's prospects, however, believing he has both the mental and physical tools needed to come back stronger than ever.
"Luke has a great family around him and they will be very important in the first few days after this injury," Radcliffe, who left United during the summer, told ESPN FC. "Having the people you know best around you helps to put things into perspective and at the end of the day, this is just a minor blip in Luke's career.
"While it is hard to see it like that when you have suffered an injury as bad as this, that is how we have to look at it. When the time comes to look back on Luke's career in a few years' time, hopefully this incident will just be part of what should be a successful story.
"Luke is a sensible lad and even though this will be a difficult period for him, he will quickly appreciate that he has plenty of years ahead of him to achieve everything he wants in the game. We are talking here about a kid who is only 20 and, the way the medical profession can deal with this kind of major injury now, it shouldn't have any effect on him in the long term."