Robert Lewandowski has reportedly told Borussia Dortmund that the only club he wants to move to in the summer is Bayern Munich, despite interest from the likes of Manchester United and Real Madrid.
Lewandowski's successful season at Dortmund has put some of Europe's biggest clubs on alert to his services after the striker scored 34 times in 43 appearances.
As he enters the final 12 months of his contract, the Poland international is believed to be looking at his options now that the season is over, but Bild reports that he has told his side he only wants a move to Bayern Munich, otherwise he will leave the club for free in 2014.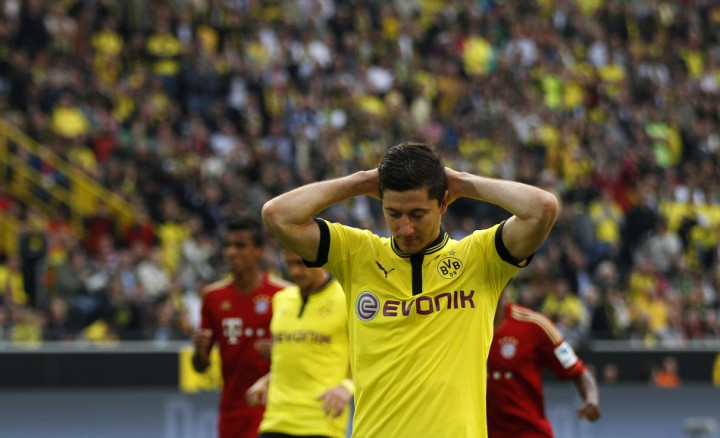 United had shown an interest in Lewandowski towards the end of the season, with Sir Alex Ferguson admitting he would like to purchase the star, but also saying that Bayern Munich were chasing the striker as well.
Meanwhile, reports this week have claimed that Jurgen Klopp has offered Lewandowski to Madrid, in a desperate attempt to get the 24 year old playing for a club who wouldn't be directly competing with Dortmund.
With the managerial changeover at United, the club will be going through some uncertainty over transfer targets. And in terms of players, the idea of joining the English giants without Sir Alex Ferguson could prove to be less tempting.
Real Madrid are in a similar position managerial-wise, with the Spanish giants yet to appoint a replacement for the outgoing Jose Mourinho who will leave after the final game of the season.
One club who do know their manager for the next campaign though is Bayern Munich, with Pep Guardiola believed to be one of the main drawing points for the side as they look at targets for next season.
Klopp has admitted that Mario Goetze said one of the big reasons for going to Bayern was to work with Guardiola, who is one of the world's most successful managers in the 21st century, and Lewandowski would no doubt be tempted to link up with his teammate and work under the coach who created a dynasty at Barcelona.