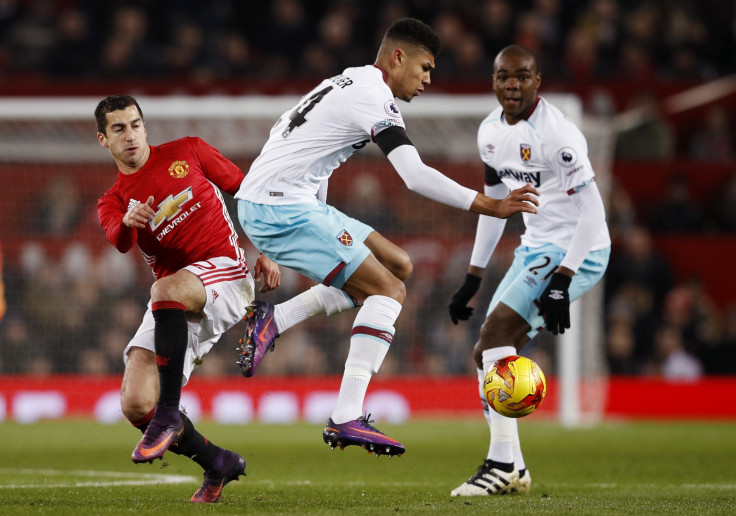 Henrikh Mkhitaryan says he is pleased with his performance in Manchester United's victory over West Ham in the quarter-finals of the EFL Cup on 30 November.
A brace from Zlatan Ibrahimovic and another from Anthony Martial gave United a comprehensive 4-1 win at Old Trafford, with former Red Devils youngster Ashley Fletcher scoring a solitary goal for the visitors.
Mkhitaryan picked up the man-of-the-match award after setting up a goal each for Ibrahimovic and Martial and said he was pleased with his contribution.
"I'm excited for the performance, I'm excited for my performance," the Armenia international told MUTV.
"We've done a good job. We've tried our best to win because the last game, on Sunday against West Ham, wasn't very good for us when we didn't win. But I think this time everything worked out and we're very pleased."
United had drawn 1-1 with West Ham in the Premier League on 27 November to fall 11 points behind leaders Chelsea in the standings. The Red Devils have only won one of their last seven matches in the league.
"The last game we couldn't score our chances, but now we've scored our chances so the difference is that," Mkhitaryan added.
"This time we've done maybe more than what we have to do and we've scored four goals. Maybe we could score more but in the end we stopped on four goals and I think we've done a very good game and the transition from defence to offence was great.
"We have to keep working to be ready for the next game against Everton."
United will play Hull City over two legs in the semi-finals of the EFL Cup in the weeks commencing 9 and 23 January, with Liverpool facing Southampton in the other semi-final.
The Red Devils' next league assignment sees them taking on Everton at Goodison Park on 4 December.