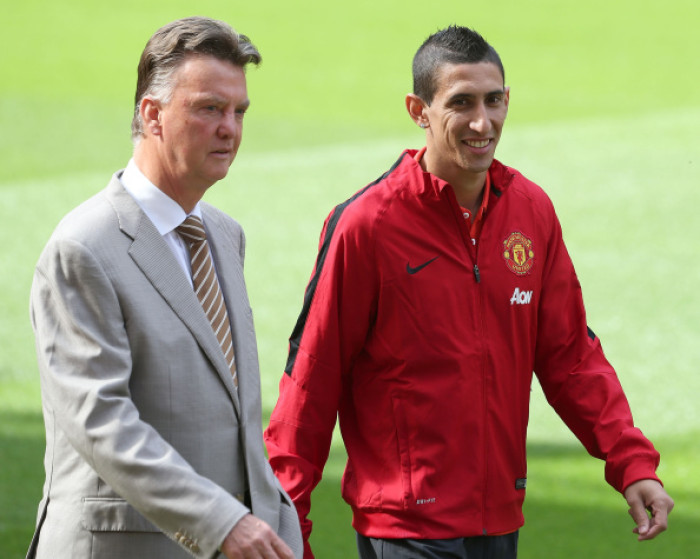 Manchester United manager Louis van Gaal has admitted the club will miss out on transfer targets, while revealing he has told some players this could be their last weekend at Old Trafford.
Speaking at the unveiling of £59.7m British record signing Angel Di Maria, Van Gaal said players wanted to join United but were being prevented from doing so by their club.
Asked whether there would be more signings before the transfer window shuts on 1 September, the Dutchman said: "We already know in defence what players we want. Some times you can have them, some times no. It depends more on the club. The players want to come."
Without naming specific targets he added he did not want to comment further because it would bump up their price.
"I cannot say anything about that [signing more players] because it will raise the price."
On the issue of departures, the 63 year-old said he had told players during conversations after lunch today that Saturday's Premier League game against Burnley could be their last for United.
"Players shall go," he added. "I had conversations with players after lunch. After this weekend maybe we will have another group. Players will go away and players will come in.
Of Di Maria, who will wear United's famous no. 7 jersey, Van Gaal, who at one point instructed Di Maria's interpreter to translate his answer to him as it was "important", said he was a team player whose acceleration would suit his philosophy.
"I am very pleased that we can have such a class player in our squad but you have many class players but for me also it is important he is a team player and that is what I am liking in Di Maria, not only class, he can accelerate the game for us but he can also play in the interest of the team."
United had already barred questions of Di Maria's Real Madrid exit but the Argentine winger said he was happy to be joining the 20-times league champions.
"I am very pleased to play for Man Utd, I like the team and I wanted to come here, even though they are not playing in the Champions League.
"I think I can help and work with the team well and help them get back into the Champions League."
The 26-year-old said he had been made aware of the significance of the no. 7 shirt by former Madrid team mate Cristiano Ronaldo, who wore the shirt for six years before moving to the Bernabeu.
"I was aware of the importance," he said. "Cristiano Ronaldo had already spoken to me at Real Madrid and explained how important it was."
United will be without Ander Herrera for 10 days, while Marcos Rojo will have to wait to make his debut after flying to Madrid to finalise his registration details.