Ryan Giggs: England's Loss is United's Gain
Manchester United veteran Ryan Giggs believes the Red Devils have benefitted from Rio Ferdinand's exile from the England national squad. The Welshman lauded the English defender for his consistency and leadership.
"Yes, it [ha]s," Giggs said, when asked whether Roy Hodgson's decision to exclude Ferdinand has resulted in improved performances for United. "He's been playing like that all season," the 39 year-old told the Mirror, "His experience, leadership skills and organisation were needed with two young players around him, in Jonny Evans and Rafael."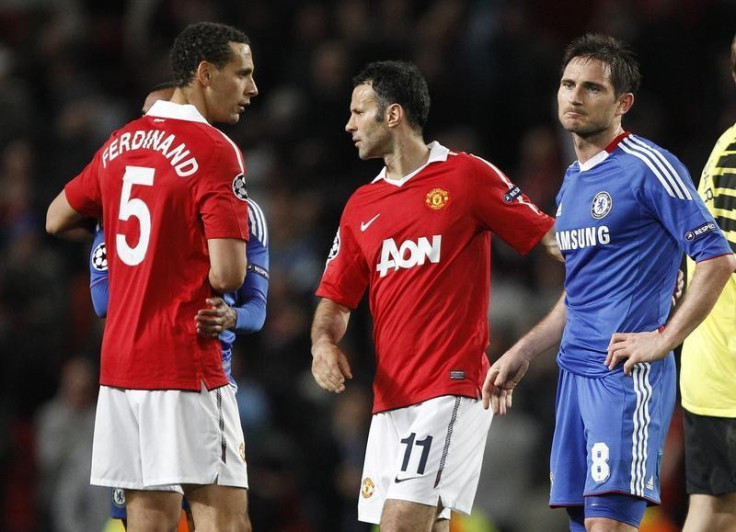 Roy Hodgson has consistently refused to pick Ferdinand for "football reasons" and the ex-West Brom boss reiterated his stance after England's friendly win over Brazil recently. Hodgson played the far less experienced pair of Gary Cahill (Chelsea) and Chris Smalling (United) in central defense, against the South Americans. There are some who believe that had they been playing against a more clinical side, a win would have been very unlikely. And Giggs has insisted his team mate is more than deserving of an England recall.
"Rio's just a top player. He has proved that again and again, and he's proved that again on Wednesday [in the 1-1 Champions League draw against Real Madrid]," he said.
When asked whether Ferdinand was disappointed over the England situation, Giggs, responded: "No, I don't think so," adding, "We're just happy that he's playing so well for United. The rest of the stuff we're not too bothered about, as long as he keeps putting in performances like that."
Ferdinand has had to contend with injuries in recent seasons. A groin problem sidelined the defender earlier in the season and problems with his back have also affected his career.
Giggs is no stranger to injuries and knows the importance of managing them. The Welshman suggested it was important to alter playing styles, after serious injuries, to ensure a full and long-term return.
"Rio's an intelligent person and an intelligent player," said Giggs, "I was similar in that I had to change my game because of the hamstring problems I was getting. You do have to change your game as you get older and he's done that really well.... to still be playing at 34 at that standard is testimony to the way he's looked after himself and the ability he's got."
Ferdinand is in contention to start for United in their FA Cup tie against Reading on Monday night.
© Copyright IBTimes 2023. All rights reserved.