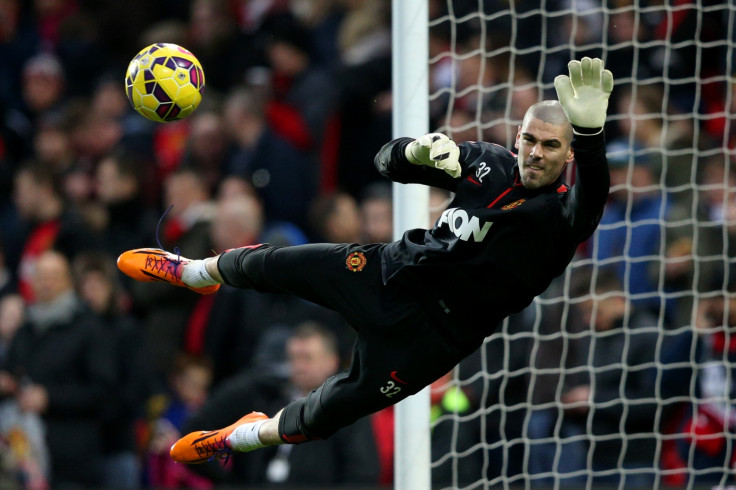 Spanish football icon Xavi Hernandez has told his friend Victor Valdes to find a quick solution to his current nightmare at Manchester United. Xavi says he is "very bothered" about the struggles of the player he considers Barcelona's finest goalkeeper of all time, and wants him to enjoy football once more.
Valdes signed a 18-month contract at Old Trafford in January of this year, but has been shunned by Louis van Gaal since he allegedly refused to play an Under-21s game in the summer. The keeper has been forced to train separately from his teammates and his wife recently revealed he had been excluded from the club's annual Unicef charity dinner on 29 November.
His agent, Gines Carvajal, has claimed repeatedly in recent weeks that Valdes will move to another Premier League outfit in the January window – although as he is still under contract, Manchester United would have the final say on any deal.
Xavi enjoys strong ties with both Valdes and Van Gaal, after the latter handed the pair their first-team debuts at the Nou Camp, alongside Carles Puyol and Andres Iniesta.
But asked about the Valdes situation during an interview with Radio Marca, Xavi said the keeper does not deserve the punishment Van Gaal has metered out.
"It bothers me a lot because he doesn't deserve it. I think there are few people who know Victor well and I consider myself one of them. He is a very good friend of mine and as a good friend I wish him all the best. I know him well and he doesn't deserve this in any way. He is a great professional, a great leader in the dressing room and an example of companionship," he said.
"He is underrated because few people know him well. I feel bad. I hope he finds a quick solution and enjoys football again because he deserves it. We [Barcelona] won three Champions League with him being crucial in all three finals. He is the best goalkeeper in the history of Barcelona without a doubt.
"In the Spanish national team he also set an example. He was in a very good position with Barcelona but the [national team] manager opted to put Iker Casillas as the number one instead. He kept working hard like a professional. He has been always been respected by his teammates."