Victor Valdes: Manchester United outcast 'wants January move to Premier League rival'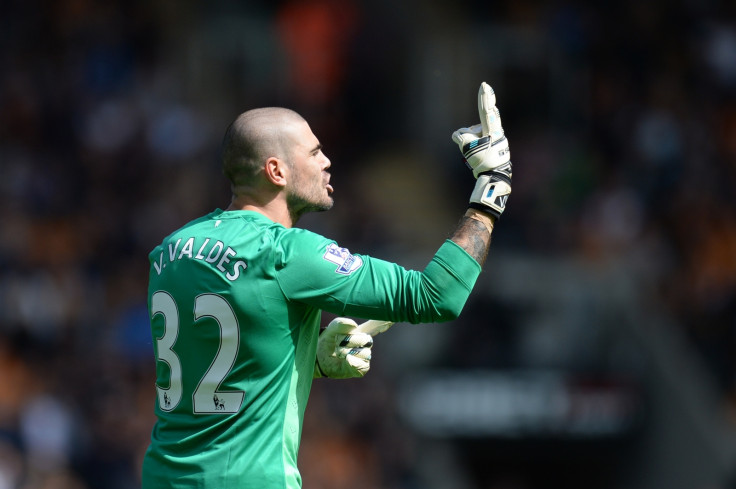 Victor Valdes's agent Gines Carvajal has revealed the Manchester United 'keeper is likely to move to another Premier League side during the January transfer window, although the Red Devils will have the final word. The Daily Mail recently reported that United were ready to terminate the player's contract but only if he agreed to leave the Premier League, after he was linked with Liverpool, Chelsea and Newcastle.
The 33-year-old veteran is under contract at Old Trafford until the end of the season but has been exiled by manager Louis van Gaal since the summer after the 'keeper allegedly refused to play for the Red Devils' under-21 side. The Barcelona legend was close to a move to Besiktas on the last days of the summer transfer window but after the deal collapsed, his future has been in limbo.
Chelsea were linked with his services before signing Italian veteran Marco Amelia, while Newcastle were said to be interested in signing him following Tim Krul's injury, which rules him out for the rest of the season.
"We will try to turnaround the situation [in January]. It is logical and is what he wants," Carvajal said to Spanish radio station 4g. Nothing is clear at this moment because there are still two months [to the transfer window]. The Premier League is attractive, he is adapted there so possibly he is going to stay in the Premier League but I don't close doors anywhere. Although always we will depend on Manchester to let him to go."
Asked whether Sevilla could be a potential option, he said: "They already have two good keepers [in Sergio Rico and Beto] and one [Rico] is very young. Now I can't advance anything because I don't know anything."
The agent, nevertheless, recently revealed Valdes was approached by Valencia during the summer transfer window but said the 'keeper is unlikely to return to his homeland, suggesting he did not want to play against his former side, Barcelona.
Spain national team coach Vicente del Bosque recently claimed he was very close to including Valdes in his squad for a recent call-up, despite the 'keeper's situation at Old Trafford.
"We have been very close to bringing Valdes back to the national team. It was a moment when I think it would have been good for him to be with us again. Sincerely I regret not having included him in the squad," Del Bosque said to La Sexta. "Why we don't bring in and help a guy who has been very good for the Spanish national team? And I know that the national team is not charity but maybe Valdes needed a boost, a support, and and in the end we didn't give it to him. Maybe we been cowards to not do it. I think we have to have feelings and humanity."
Asked whether he is upset by Del Bosque's snub, Valdes's agent said: "No, not at all. We haven't even considered that because Victor is aware about his current situation. But we will try to change that [in the January transfer window]. Victor has not any reproach for Vicente."
© Copyright IBTimes 2023. All rights reserved.