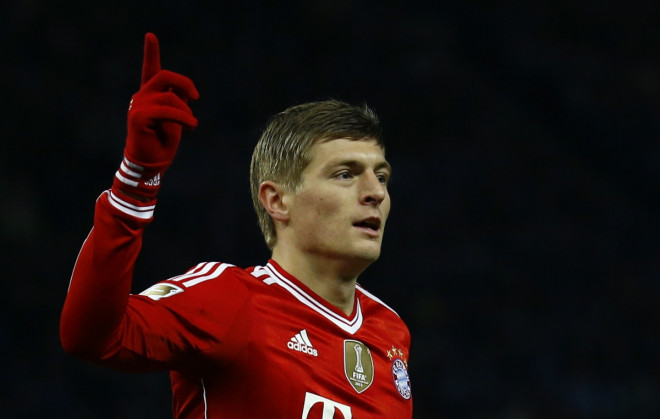 Manchester United are prepared to spend up to £40m for the signature of Bayern Munich midfielder Toni Kroos in the summer, according to the Mirror.
The midfielder is out of contract in 2015 and is regarded as one of the best players in his position, something not lost on many clubs across Europe.
David Moyes is a keen admirer of the player and hopes to bring him to United next season as the former Everton manager prepares a big spending spree to bring his team back into title contention.
The midfielder scored a scorcher against Arsenal at the Emirates which saw Bayern qualify for the quarter-finals of the Champions League. He is likely to be brought in as replacement for Michael Carrick, who is entering his mid-thirties and is unlikely to continue for long.
However, the player has hinted he may sign a new contract with the Bavarians. The Bundesliga club has also stated they are unwilling to sell the player in the summer.
"It is a beautiful stadium. But I belong to Bayern Munich and that's good," Kroos said after their 1-1 draw against United.
Meanwhile, Moyes believes the Red Devils have a chance of qualifying for the semi-finals by beating Bayern at the Allianz Arena next week. United managed to hold Bayern to a draw at Old Trafford and need a win or a draw to make it to the next round.
"The players played really well, I'm delighted. I'm disappointed we conceded a goal, but it was really gutsy and I'm really pleased," Moyes told ITV.
"The players had a real determination to make sure we did well. It's a competition we have a good history in and the players realised we were playing a good side.
"We know we have to score a goal. At the moment, if the scores stay the same, Bayern wins and we know we have to do something about it. But we've given ourselves a great opportunity," he concluded.