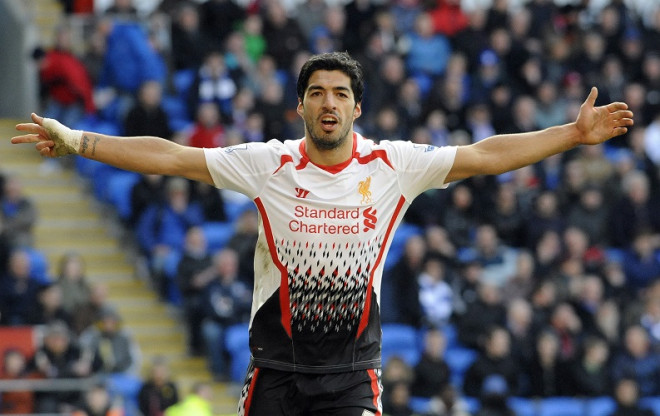 Manchester United are preparing a £65m bid for Liverpool striker Luis Suarez in the summer, according to the Metro.
Real Madrid are also interested in the player but United's new manager Louis van Gaal has earmarked the Uruguayan as a prime target to play alongside Robin van Persie in the starting line-up and will leave no stone unturned to bring him to Old Trafford.
Liverpool are unlikely to make it easy for United to sign Suarez but are likely to be powerless if talks of a release clause are found to be true.
Arsenal made an audacious attempt to sign Suarez last summer, making a £40m plus £1 bid for the player but Brendan Rodgers and the Liverpool management refused to let him move to the Emirates.
The Uruguayan vindicated his side's decision to keep him at all costs and emerged as the highest goalscorer in the league with 31 goals and helped Liverpool return to Champions League football after a five-year hiatus.
Suarez signed a long-term contract with Liverpool in December and is unlikely to be in any hurry to leave given the situation. Moreover, with United out of the Champions League, it will mean yet another year out of Europe for one of the best players in the world. However, a move from Madrid may interest the player who has previously expressed his love for the club.
Meanwhile, Van Gaal expressed his frustration at Aaron Ramsey and Gareth Bale for pulling out of the Wales squad for their friendly against Netherlands. The Dutchman insisted that they need to play against the best team that Wales have to offer, to keep them in sync with the competition in the World Cup.
"I said to my board they have to insist on playing against Bale and Ramsey, but this can happen in football," Van Gaal said.
"I don't know whether it is injury or holidays. It is better that we have the best team of Wales because we need resistance. Wales without these players are weaker," he added.