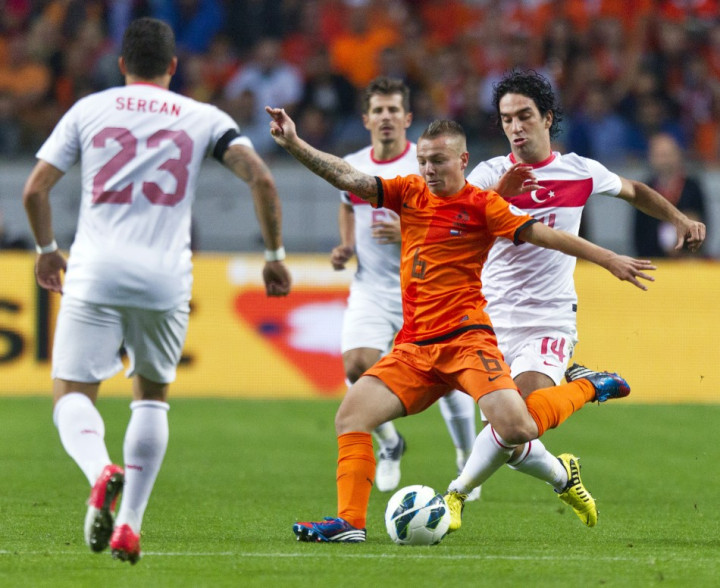 Manchester United are considering a move in signing Jordy Clasie from Feyenoord this summer, according to the Spanish newspaper El Confidencial.
The report claims incoming United manager Louis van Gaal has set his sights on the 21-year-old midfielder and wants to bring Clasie with him to his new club. He has added the Dutch international to the list of players he wants the Red Devils to sign in the summer transfer window.
The 62-year-old is currently managing the Netherlands national side for the World Cup and will take over the role at Old Trafford after the summer tournament.
Clasie has been in impressive form for the Dutch club which has seen him make it to Van Gaal's squad for the World Cup in Brazil. His style of play has seen him draw comparisons with the Barcelona star and has seen him being dubbed as the "Dutch Xavi."
Clasie developed under Ronald Koeman after the midfielder came up through the ranks of the club's youth system. Koeman confirmed that he would leave the Eredivisie outfit and the departure of the 51-year-old has seen the Dutchman consider his future at the club.
The Dutch midfielder's agent earlier admitted there has been no contact from the Old Trafford club in signing his client. However, Wessel Weezenberg claims Clasie's future will be decided after the Netherlands World Cup campaign.
"There has been no contact recently with the Viola (Fiorentina) or with the Red Devils (United) and neither with other clubs," Weezenberg told Calciomercato.
"He is focused exclusively on the national team. The opportunity to train daily with a great coach like van Gaal is very important for him. Jordy's future will probably be decided after the World Cup."
Meanwhile, United striker Robin van Persie has heaped praise on Clasie after the midfielder's brilliant pass during the friendly fixture against Ecuador which saw the former Arsenal skipper score a brilliant goal.
"I was not born smart, but I developed myself by keeping my eyes open. They have qualities. I've received many beautiful balls in my career but that ball from Clasie against Ecuador was definitely one of the nicest," Van Persie told Voetbal Primeur.